Are you confused about the scope of Psychology in Pakistan? Are you one of those students who want to pursue Psychology but is confused because of the myths associated with psychology field. Don't worry we have got you covered. In this blog you will get all the information related to the psychology field For more info please keep reading the blog.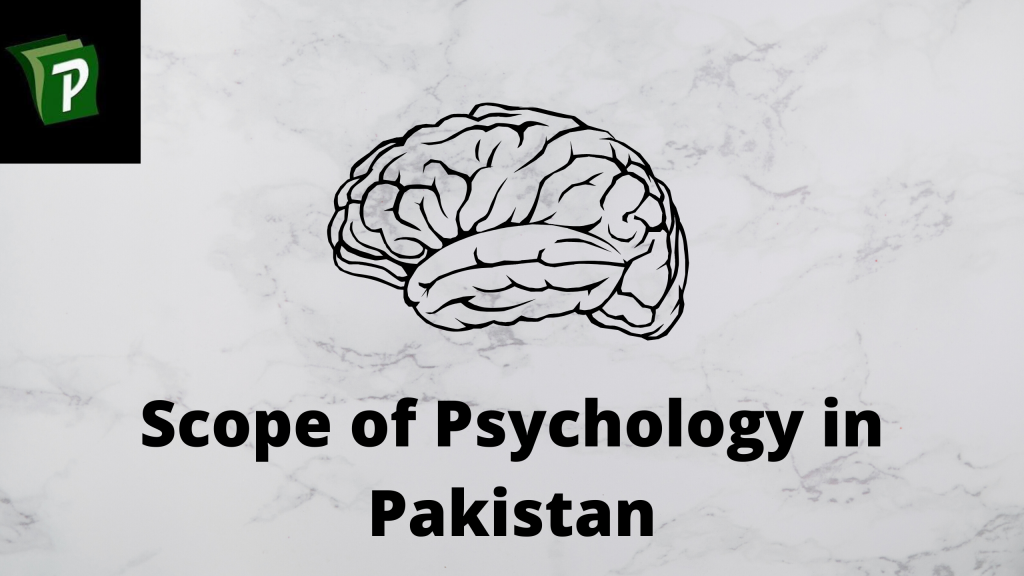 Psychology:
Psychology can be defined as science of mind and behavior. With no doubt it can be stated that Psychology is a promising subject in the field of health sciences.
With the passage of time people have realized the importance of mental health and also how vital it is to treat the mental health . This has put a specific focus on diseases of the brain and the cure . In simple words it can be said that people have realized that mental health is as important as physical health. Due to these reasons psychologists have gained an massive importance during the last 10 years.
Psychologist job:
Psychologists are doctors or therapists who are responsible for the detection, diagnosis, treatment, and counseling of patients with mental health disorder. Mental health disorders include schizophrenia, depression, anxiety, bipolar disorder etc. Psychologist try o understand the human behavior and also try to understand various concepts like intelligence, emotions, interpersonal relations etc.
Psychologist uses their knowledge and skills to provide assistance to people suffering from mental health disorders and also help them in overcoming whatever is bothering them. Psychologists bring a positive change in patients life.
Difference between Psychologists and psychiatrists:
People always seem to be confused in differentiating between a psychiatrist and a psychologist . Difference between the both of them is that psychiatrist have the permission to prescribe drugs used for the treatment of mental disorders whereas a clinical psychologist deals with behavioral therapy .
Psychology courses:
The subjects you study in this field are mentioned below:
Introduction to Psychological research
Developmental Psychology
Cognitive psychology
Social psychology
Psychopathology
Personality and individual differences
Survey research and design in Psychology
Motivation and emotion
Experimental Psychology
Note: Not every course is mentioned in the blog .
Scope of Psychology in Pakistan:
A decade ago when there was a very minute concept of mental health in the minds of people. And psychologists were considered as the doctors for the crazy people. We can say that at that time the scope of psychology was not vast. But with the passage of time things have been altered.
The scope of psychology is increasing tremendously in Pakistan because there are so many issues and disorders that are cured with the help of psychologists For instance nowadays there are so many children who need speech therapies, Academies have been developed in order need to find out why kids behaves in a explicit way, rapists also sent to psychologists by courts for the assessments. People with depression are also treated by psychologists . Other than this patients with different kind of phobias also take aid of psychologist.
Employment Areas in Psychology field:
Child/Youth Guidance Centres
Community Mental Health Centres
Correctional Programs
Research Labs
Vocational Rehabilitation Offices
Welfare Organizations
Rehabilitation Centres
Prisons
Psychology Job Types:
Caregiver
Career Counselor
Community Relations Officer
Developmental Psychologist
Day-care Centre Supervisor
Educational Psychologist
Forensic Psychologist
Human Resources Assistant
Health Educator
Industrial Psychologist
Neuropsychologist
Career Employment Specialist
Child Care Worker
Child Support Specialist
Clinical Psychologist
Counseling Psychologist
Psychiatric Technician
Public Statistician
Psychiatric Assistant
Recreation Worker
Rehabilitation Specialist
Research Psychologist
School Psychologist
Social Worker
Psychologist Salary in Pakistan:
Salary in this field depends on your specialization and nature of Job . The estimated salary of psychologist is 70k per month
Institutes offering psychology discipline in Pakistan :
Note: More than 100 Universities in Pakistan are offering psychology discipline . Some of them are mentioned below
Quaide Azam University
National University of Modern Languages( Numl)
Bacha Khan University
NUST
Virtual University of Pakistan
International Islamic university
Comsats University
Bahria University
University of Haripur
Bahuddin Zikrya University (Multan Campus
Islamia College University
University Of Sargodha
Shaheed Benazir Bhutto Women University.
In addition to the above blog, you can also read the following related blogs as well;
For more information also visit
For Entry test preparation you can take assistance of PrepareHOW app