Any queries related to NUST fee structure or Nust need Based Scholarship will be answered in this blog. This blog will provide assistance to the students who wish to apply for the NUST need based Scholarship .For more information please keep reading the blog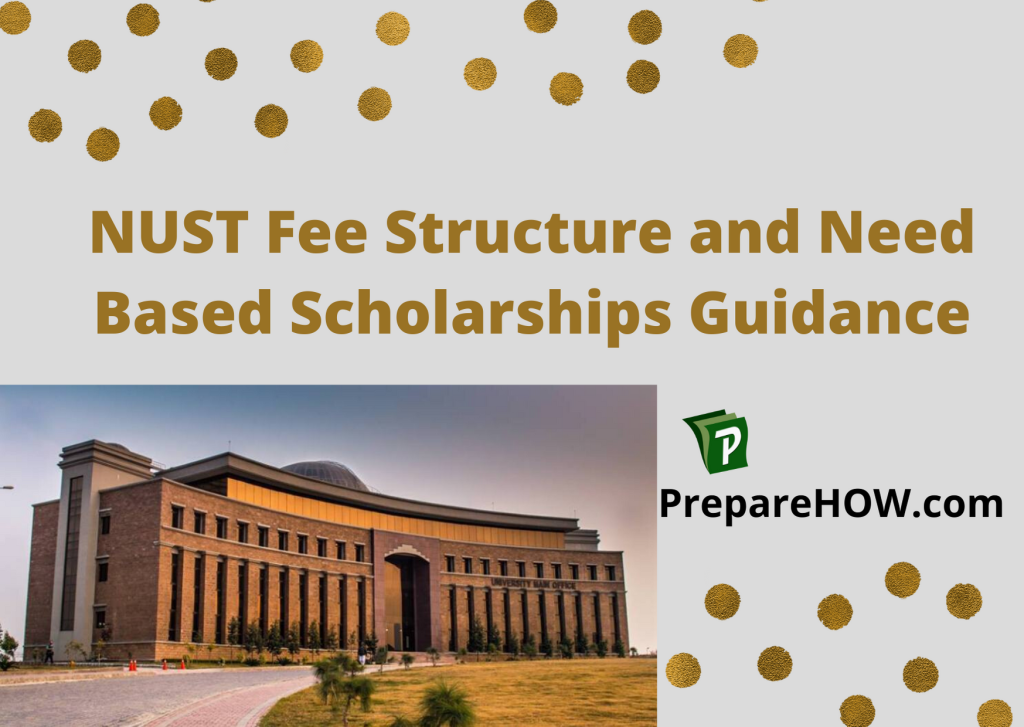 Fee Structure of National Students:
| | | |
| --- | --- | --- |
| | Engineering/IT/Bio Sciences & Natural Sciences | Architecture, Social Sciences, and Business studies |
| Admission processing fee | 35,000 | 35,000 |
| Security Deposit | 10,000 | 10,000 |
| Semester Fee | 95,000 | 110,000 |
| ​Miscellaneous Charges (per semester) | 2700 | 2700 |
"Harvard Business school licensing fee" Rs.7000 per year will be charged to undergraduate students of BBA and BS Accounting and Finance
Payment of Student Fees:
Please remember that selected students have to pay the admission processing fee, security and full semester fee in advance at the time of admission
On NUST website selected students can find the invoice/challan for admission charges along with first semester fee and provisional selection letter .
Tuition fee will be payable on semester basis. It is mandatory for students to pay their fee in advance before the start of semester.
Through an amendment in the Income Tax Ordinance 2001 by Finance Act 2013, advance tax (under section 236 I) shall be collected @ 5% on the total amount of fee (if Student's Payable fee exceeds from Rs. 200,000/- per annum excluding the amount refundable).
Advance tax paid on fee is changeable at the time of filing of Income tax return. NUST will issue Advance Tax Certificate in this regard at year-end.
If parents/guardians of student are not residing in Pakistan then 5% tax is not vital . For complete detail click here
Please keep in mind that in every spring semester 5%tax is deducted. Students eligible for the refusal of this tax) need to contact the fee section (HBL Building ) before the last date of paying spring break fees
If you are a student of NUST then keeping the record of the copies of paid invoices throughout their academic tenure comes under the category of your responsibility
International Students in USD
Engineering, IT, Bio-sciences, Natural Sciences, Architecture, Business Studies & Social Sciences
Admission Processing Fee
USD 600
Tuition Fee ( per annum)
USD 4700
Security Deposit
USD 250
Health Facilities
USD 120
Points to keep in Mind:
Please note that tuition fee for the first two semesters will be deposited as per selection letter.
Upcoming tuition fee will be paid through challan form generated by Finance Directorate, NUST. The structure and schedule of payment will be intimated to the candidates who are being selected by NUST
The security deposit is due along with the admission processing fee at the time of admission. It means you have to pay security fees along with the admission processing fee at the admission time, Before the commencement of semester
Repeat fee of course is USD 40 per credit hour.
The next thing I am going to discuss in this blog is about Nust need based scholarship and this blog will provide information and guidance related to frequently asked question ''How to apply for Nust need based Scholarship)
Nust need based Scholarship
Aim of Nust Need Based Scholarship
Need Based Financial Aid Program aims to make NUST accecible for students who are selected purely on merit but are financially . The aim behind this program is nothing but to facilitate the students who are financially weak
Need based financial aid provide assistance to Undergraduate and Masters students in form of:
Need Based​ scholarships: Covering half/ Full academic expenses for half/ full duration of the studies (Maximum 2 & 4 years for Masters and Undergraduate separately).
Interest Free loans for instance, Defertment of tution fee Ihsan Trust Interest Free Loans etc.
Facility to deposit fee in installments. This facility is not valid to admission / 1st semester dues
Note :
Financial Aid Office (FAO) is located in H-12 Islamabad. You are welcome to visit the office at (09:30 a.m. to 4:30 p.m) on all working days
Now the vital question that must be arising in your mind is :
How can you apply for Nust Need Based Scholarship, Don't worry we are here to provide assistance.
HOW TO APPLY?
Step 1:
NFAAF collects biographical and financial information in order to determine eligibility for financial aid. It includes:
Parents / guardians' total income
Assets/resources
Number of people (earning hands & Dependents) in the household ( means no of people who have the source of income and the no of people who do not have spurce of income in the household )
collective expenses etc.
For more information related to NFAAF click here
Due date to submit NFAAF is very same as that of online admission application form(s). For more information please click here.
Applicants for this programs are required to attach soft copy of supporting documents mentioned above with NFAAF
Step 2:
Please do Submit Supp​orting Documents (in Hard Form) in FAO upon receiving​ an email from FAO. Mailing address is mentioned below:
Room No 318,
Second Floor,
Main office Building,
NUST,
Sector H-12, Islamabad
Step 3:
A​ccept your provisional scholarship offer
Keep in mind,If you are are provisionally selected for need based scholarship at the time of admission, then you will receive a financial aid decision (in provisional admission offer letter) in July or August
Applicants for the programs may accept or decline provisional financial aid offer
Step 4
It is must for candidates to submit admission dues to secure admission seat and avail scholarship slot,
Once dues are submitted, scholarship slot may be transferred to whichever discipline the candidate​ finally opts to join. Candidates will demand for transfer of scholarship to other disciplines, in which they are offered admission .HOW?, by sending an email on [email protected]
Step 5
Candidates have to submit Deed Of Agreement​ in Financial​ Aid Office within the predetermined time period.
For more queries related to NUST need based scholarship and NfAAF CLICK HERE
In addition to the above blog, you can also read the following related blogs as well;