NUMS Entry Test is an entry test held once every year for admission in medical universities offering MBBS/BDS like AMC (Army Medical College) and other as listed below. NUMS Entry Test is held by NUMS (National University of Medical Sciences) which is located in Rawalpindi. NUMS Entry Test is also affiliated with NTS who organize the test.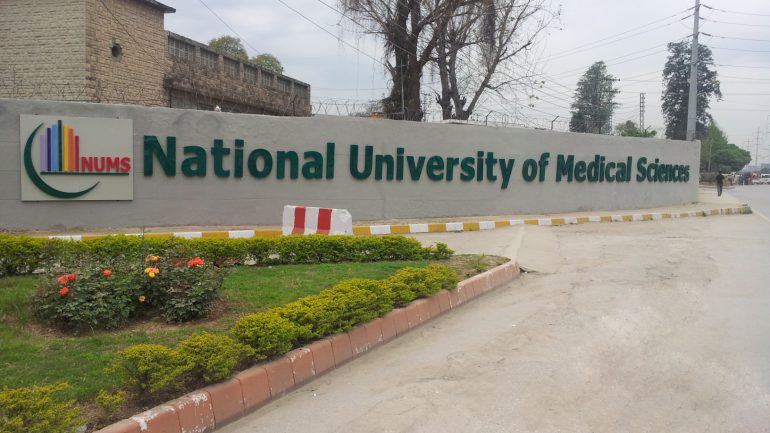 NUMS ENTRY TEST DETAILS
NUMS Entry Test is going to be held on 11th October 2020 which has been confirmed by NUMS. The announcement and advertisement of the test will no doubt come soon which will provide us with all the necessary information. The online registration for the test will start from 28th August 2020 and end on 11th September 2020.
It is expected that NUMS Entry Test will be of similar format and style as last year's NUMS Entry Test so the format is written below.
The test duration is 2 hours and 30 minutes as was last year and there will be no negative marking. The number of the questions in the test will be 200. The test will have 4 different sections and the subject description is as follows:
Biology (40 %) = 80 questions
Chemistry (30 %) = 60 questions
Physics (20 %) = 40 questions
English (10 %) = 20 questions
Since the test will be conducted by NTS, there shall be different question papers with different color schemes in which the questions shall all be the same but the order of sections of subjects and question shall be shuffled in order to avoid cheating.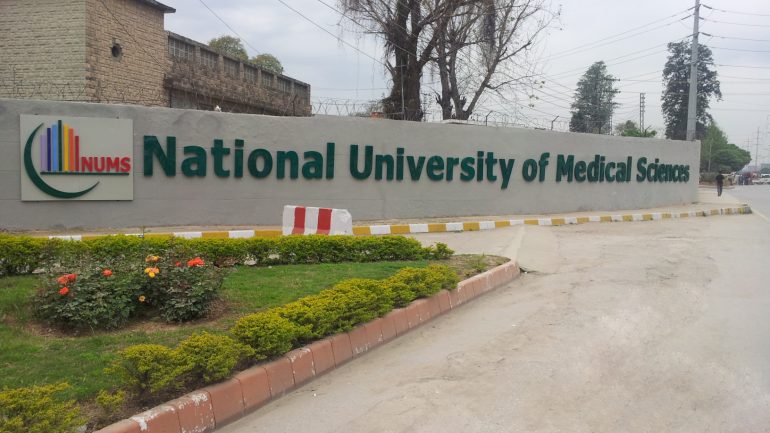 Universities Accepting NUMS Entry Test
NUMS Entry Test is applicable to 11 universities and most of them are private medical universities. The list for public and private universities who accepted NUMS Entry Test last year and most probably will this year is given below:
Public Sector Universities:
Army Medical College (AMC)
Private Sector Universities:
CMH Lahore Medical & Dental College, Lahore
Combined Institute of Medical Sciences, Multan
CMH Medical College, Kharian
Quetta Institute of Medical Sciences , Quetta
Wah Medical College, Wah Cant
CMH Institute Of Medical College, Bhawalpur
Karachi Institute of Medical Sciences (KIMS), Karachi
CMH Kharian Medical College
Bahria Medical College, Karachi
HITEC Institute Of Medical Sciences, Taxilla
Eligibility Criteria
NUMS Entry Test's eligibility criteria is the same as for the eligibility criteria last year. All Pakistani nationals and students holding dual nationalities can apply as well for the test.
The candidate must have passed Intermediate/HSSC Pre-Medical Group or equivalent examination (A-Levels etc) with minimum 70 % marks. However the candidates awaiting result can also apply and will be required to submit their result later if admission is secured.
The candidates applying for NUMS Entry Test of O&A Level or equivalent qualification must have their equivalence certificate issued from IBCC (Inter Board Committee of Chairmen) office. Since the candidate whilst applying for the test might not have his equivalence certificate for A-Level or equivalent, he/she can apply on basis of O-Level equivalence certificate.
How To Apply
The procedure for applying for NUMS Entry Test is expected to be the same as for last year. Hence when the advertisement for the test will come, you will visit the NUMS Website and open the link for the registration for NUMS Entry Test 2020 which will redirect you to National Testing Site (NTS) website.
From here you will click on Online Registration Button and an online form will open. Fill the form carefully by adding personal details and make sure to not make any mistake there as it will be used later as well. Double check the form and when done, click on the Register button.
After clicking the button, you will be redirected to a challan form which you will print. After printing, go to any HBL bank branch and pay the fees which will be 3000/ rupees.
Now send the paid challan form copy along with the printed and completed admission form copy to the NTS office in Islamabad whose address will be mentioned in due time. The address is Plot 96 Street No.4, H-8/1 Islamabad.
Test Centers
NUMS Entry Test is held all over Pakistan's major cities and the test centers will be in the following cities:
Islamabad
Lahore
Rawalpindi
Multan
Bahawalpur
Karachi
Gwadar
Quetta
Peshawar
Sukkur
Dera Ismail Khan
(The advertisement for last year's NUMS Entry Test, this year's will come soon in the newspaper)
Conclusion
Make sure to stay tuned for updates, visit NUMS site
You can also visit PrepareHOW for updates regarding NUMS Entry Test
You can also download the PrepareHOW app for preparation of NUMS test
You can also visit the PrepareHOW Facebook page to learn the latest news
You can also read my other blogs about life at GIKI and NUST Entry Test tips and tricks