LUMS university can be stated as one of the top universities in Pakistan. If you are one of those students who wish to take admission in this university but are confused about the programs offered by the university. Then there is nothing to get worried about this blog is for you. For more Information please keep reading the blog.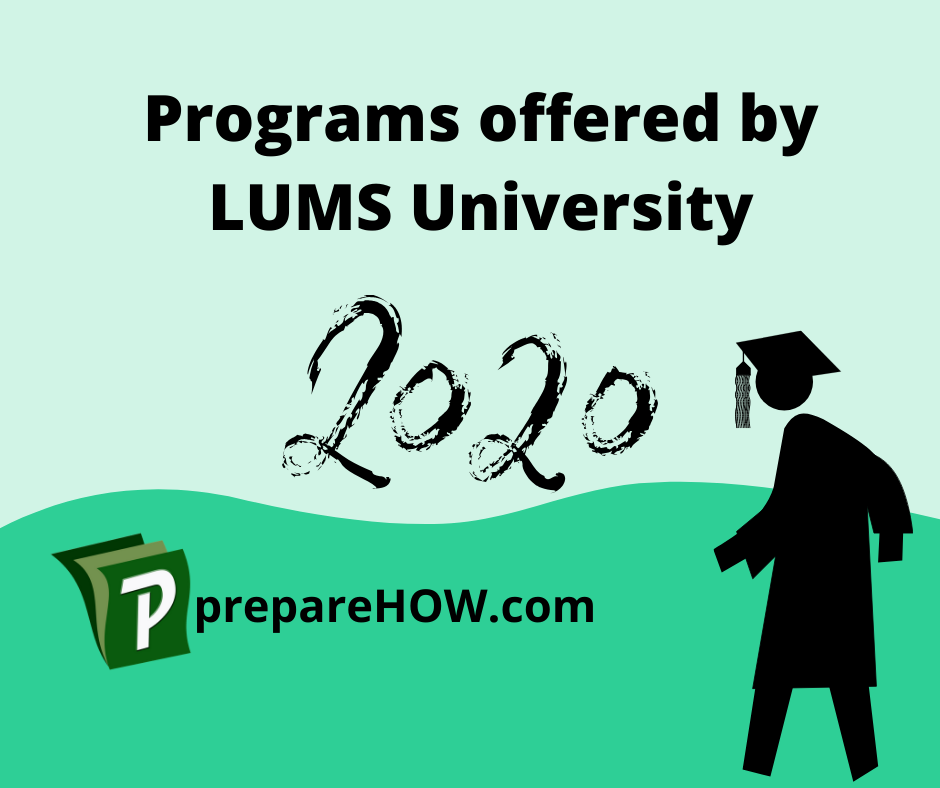 LUMS University:
Lahore University of Management Sciences (LUMS) is a leading Pakistani university with a supreme track record of success and ambitious plans for the future. LUMS is rated as one of top universities in Pakistan.
LUMS University status :
Private
Programs offered by LUMS University:
Undergraduate Programs offered by LUMS University:
BS Hons English
BS Hons History
B.A LLB Hons
BS Biology
BS Chemical Engineering
BS Chemistry
BS Computer Science
BS Electrical Engineering
BS Mathematics
BS Physics
BS (hons)Accounting and finance
BS Anthropology and Sociology
BS hons Mangement Science
BS hons Political Science
BSc hons Political and Economics (joint major)
BSc Economics
Economics and mathematics
Economics and mathematics (Joint Major)
Economics and Mathematics (joint major)
Graduate Programs offered by LUMS university:
Executive MBA
MBA
Mphil Education Leadership and management
MS Business and Public Policy
MS Health care management and innovation
MS Technology Management and Entrepreneurship
MS Biology
MS Chemistry
MS Economics
MS Electrical Engineering
MS Mathematics
MS Physics
DOCTORAL :
PhD Biology
PhD Chemistry
PhD Computer Science
PhD Electrical Engineering
PhD Mathematics
PhD Management
Phd Physics
MINIMUM ELIGIBILITY CRITERIA FOR FALL 2020 ADMISSIONS:
Applicants wishing to get secure admission in LUMS University must meet the minimum eligibility criteria to secure in admission to the Programs offered by LUMS university.But keep in Meeting this criteria does not pledge admission to the programs. Students are chosen for admission to LUMS Programs based on the following factors:
Academic Background
Performance in the Admission Test ( SAT with essay / SAT Subject test)
Completed and submitted application form and supporting documents by the stipulated deadline
Interview (if called)
(Admission criteria and test pattern can differ for different Programs for more information related to this please visit LUMS website.)
For instance:
Admission test criteria for BS Computer Science
In addition to the above blog, you can also read the following related blogs as well;
For more information also visit
For Entry test preparation you can take assistance of PrepareHOW app.
Note : If you any queries related to the entry test preparation please visit our website . or Downdload our app.