Are you planning to study at the National University of Sciences and Technology (NUST)? If so, you might be interested in learning about the accommodation options available at the university. NUST offers hostel facilities for both national and international students, making it a convenient choice for those pursuing their education at this prestigious institution.
Accommodation, Types, Amenities, and Tips for NUST Hostels
Hostel Accommodation at NUST
NUST is equipped with a total of 17 hostels on the H-12 campus, capable of accommodating approximately 4,700 students. This expansive hostel setup ensures that a significant portion of the student body can access comfortable and secure housing right on the campus.
Types of Hostels
NUST's hostels are categorized into two main types: male hostels and female hostels. The 11 male hostels are named after renowned Muslim scholars, including Rumi, Ghazali, Razi, and Attar. On the other hand, there are six female hostels named after famous Muslim women, such as Fatima, Zainab, Ayesha, Khadija, and Amna. This division ensures that students have a comfortable and conducive living environment.
Hostel Amenities
NUST takes pride in maintaining its hostels to high standards. While the specific amenities may vary from one hostel to another, there are common features available in most of them. These include triple, double, or single occupancy rooms, attached or community bathrooms, mess facilities, TV lounges, games rooms, laundry services, and security measures. The availability of these amenities contributes to a comfortable and secure living environment for students.
READ MORE: GIKI Hostel Packing List
Choosing Your Bed
When you check into your NUST hostel, you'll have the opportunity to choose your bed. It's worth noting that two beds come with large wardrobes, while the third bed comes with a smaller wardrobe. If you're looking for a bit of privacy, the third bed might be your preference, though it comes with a smaller wardrobe. It's advisable to discuss your choice with your roommates, as sharing wardrobes is a practical solution. Additionally, check the condition of your mattress, as it can be challenging to replace it later.
Booking Your Bed
Given that NUST hostel rooms are typically triple-seaters, it's advisable to arrive on the joining date and claim your preferred bed before your roommates arrive. This ensures you get the bed you desire.
Room Swap and Hostel Change
If, after some time, you wish to change your room or even shift to a different hostel, it's possible. You can submit an application to the hostel manager for a room swap. Hostel changes also require an application, which should be addressed to the DD hostel.
Hostel Life at NUST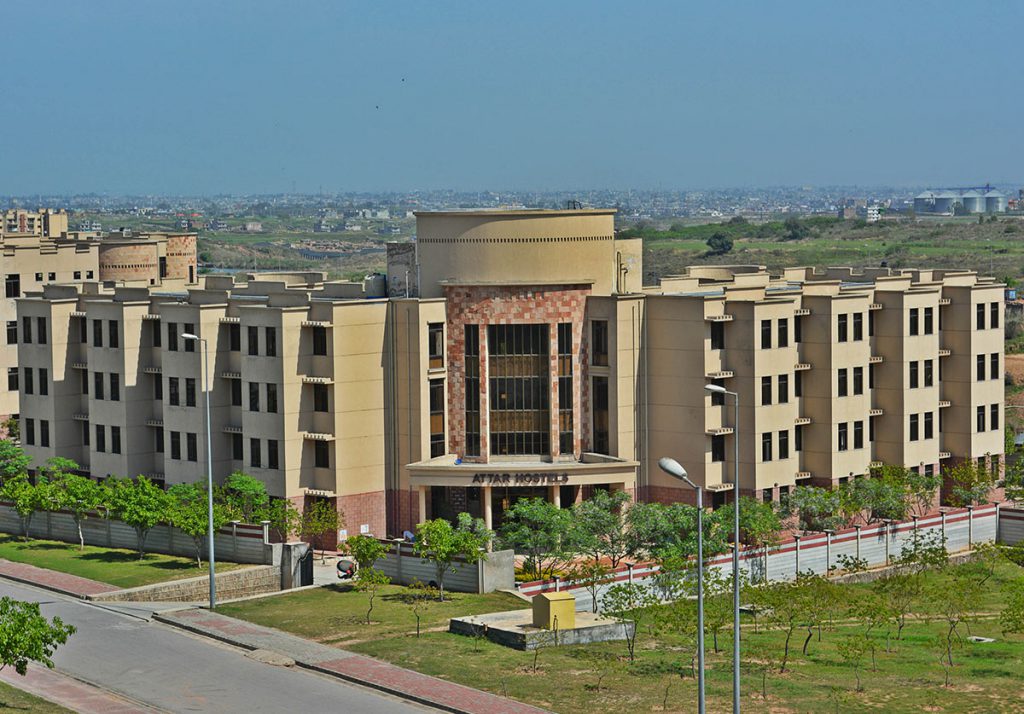 Hostel life at NUST is an enriching experience for many students. Despite any initial reservations, many introverted individuals find themselves making friends and creating lasting memories within the hostel environment. The clean and well-maintained facilities contribute to a comfortable and home-like atmosphere.
Clean Environment and Food Quality
Cleaning is a regular occurrence in NUST hostels, including bathrooms. Additionally, the mess provides quality food at reasonable prices, making it a preferable option compared to private hostels.
READ MORE: Humans of GIKI
Tips to Avoid Ragging
While ragging is not a common occurrence at NUST hostels, it's advisable to avoid wandering in the corridors at night and always keep your room locked for your security.
Required Documents for Hostel Registration
When registering for NUST hostels, make sure you have the necessary documents, including your selection letter, CNIC (or B-Form for those without CNIC), filled hostel admission form, copies of hostel and mess challans, and other required forms.
Things to Bring
In addition to personal items like clothing, consider bringing essentials like an umbrella, soap dish, small basket for toiletries, and locks for wardrobes. If you're a sports enthusiast, rackets and shuttles for badminton can come in handy. Late-night snacks can also make your hostel life more enjoyable.
Mess and Hostel Fee Details
The mess fee at NUST is approximately 11,000 PKR per month, and the hostel fee is around 29,000 PKR for a 6-month period. Keep in mind that these fees may increase annually. During the 3-month summer holidays, there are no mess fees, but you are still required to pay the hostel charges.
READ MORE: NUST Eligibility Criteria
Conclusion
In conclusion, NUST hostels are more than just accommodation; they offer a supportive and enriching environment for students embarking on their educational journey at the National University of Sciences and Technology. With well-maintained facilities, various amenities, and a strong sense of community, NUST hostels become a home away from home. From choosing your bed to adjusting to hostel life, this comprehensive guide equips students with essential insights to ensure a smooth and enjoyable stay. While safety and document preparedness are crucial, the memories and friendships formed within the hostel walls are equally valuable. NUST hostels are more than a place to stay; they're a vital part of the vibrant NUST experience.