This blog underline all the information about PGC (Punjab Group of Colleges). We will give details about Punjab College Admissions, Fee Structure, Uniform, Admission form and all details you need.
Is Punjab College Admissions open for 2021?
Usually, Punjab Group of Colleges open admissions soon after announcement of results i.e. FSc admission after Matric result. In case of 2020, the college opened their admissions in the month of July and the last date was also in July. For year 2021, you can check this blog regularly and we will update the blog with latest information.
How many marks are required for admission?
The merit of Punjab College Admissions in not that high. To get admission in Punjab College, a student must have at least an A-grade. For example, if you want to take admission in FSc or ICS, you need to get 70% marks in Matric. In case of FA, General Science (G.S.) or I.com category, you only need to have 65% marks in matric.
What is the Fee Structure?
The fee for every campus is different for every campus whether it be Punjab College Lahore, Punjab College Sialkot or any other campus. That is why Punjab Group of Colleges doesn't upload the fee structure on their website. The fee structure for every college can be found in the prospectus of the college. If you are applying for a scholarship, you just need to get 70% marks and you are eligible for scholarship. Read the following details for cash prizes and scholarships.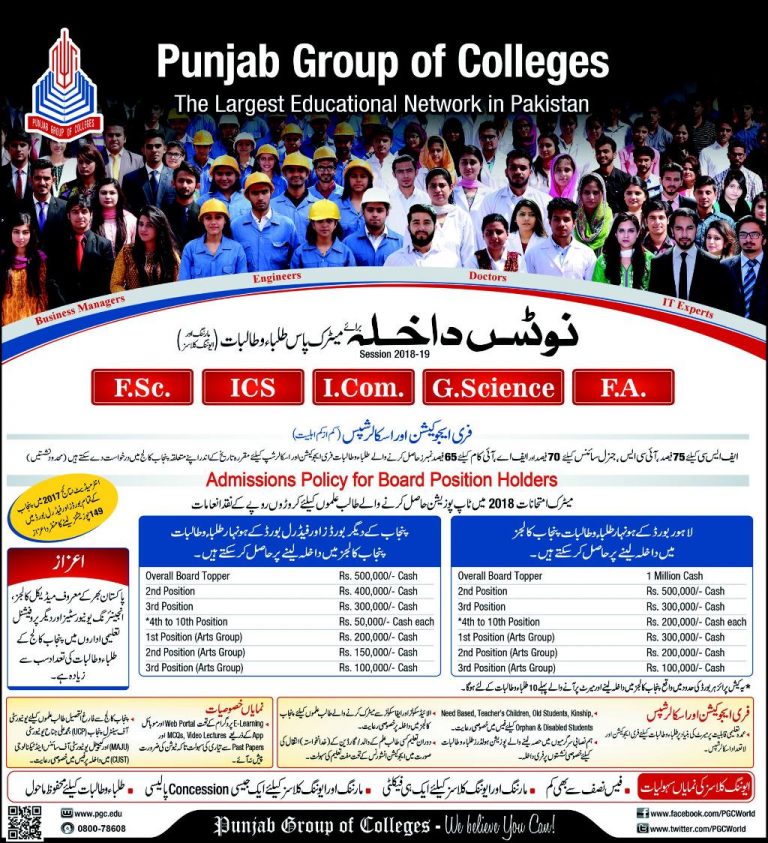 Prepare For Entry Test:
If you would like to know about universities admissions after FSc and need a reliable website to prepare from, head over to PrepareHOW and sign up for an account or download PrepareHOW Entry Test Preparation Mobile App.
Read here about How PrepareHOW is Helping Students in Entry Test Preparation.
Notes:
Remember that this blog is not about Punjab College khalsa college amritsar, punjab medical college, khalsa college amritsar result, lovely professional university punjab, amritsar college of engineering and technology, gmc amritsar or medical colleges in lahore.