(UPDATED)
ETEA Entry Test is conducted once every year by ETEA (Education Testing Evaluation Agency) which is an organization that holds and conducts entry tests for both medical and engineering universities which are present in the province KPK (Khyber Pakhtoon Khwa). The ETEA entry test we are going to talk about today is the ETEA Entry Test for medical universities. We will discuss the expected test date, how to apply, eligibility criteria and more.

ETEA 2020 Test Date
Due to Covid-19, the whole academic schedule has been affected which lead to the entry tests being postponed as well. It was rumored that entry tests for medical universities will occur in October and has now been confirmed by PMDC (Pakistan Medical Dental Council) that all entry tests for medical universities will occur sometime between 19th September to 25th October 2020.
The test date was previously going to be 20th September 2020 but now ETEA Entry Test has been confirmed now to be held on 18th October 2020 and the registration date has been extended till 21st September 2020.
Keep visiting KMU site for latest news and information regarding test date and registration.
Test Pattern
ETEA 2020 will have the same pattern as last year's test as announced by PMDC.
The test will have 200 questions and it will be 2 hours and 30 minutes long. It will not have negative marking so the maximum marks you can receive is 200.
Biology (40%) = 80 questions
Chemistry (30%) = 60 questions
Physics (20%) = 40 questions
English (10%) = 20 questions
Medical universities accepting ETEA
As mentioned earlier, this test is applicable for all universities in the province of KPK and since we are talking about the test which applies for medical universities, we will be including them only and not the engineering universities.
Here are a few examples of some medical universities. You can visit the sites of these universities by clicking on the links.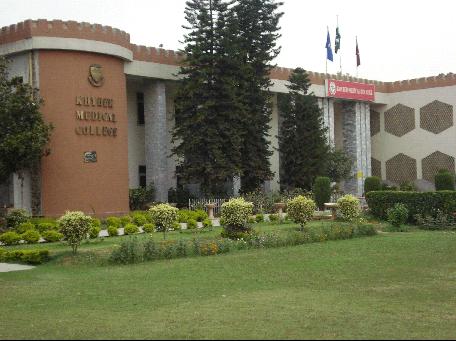 Eligibility Criteria
The most important thing to be noted when applying for this test is that you should have a Khyber Pakhtoon Khwa domicile certificate. This means that you are a student from KPK and are eligible for ETEA, if you do not have a KPK domicile, then it means you cannot apply for it.
The candidate must have passed Intermediate/HSSC Pre-Medical Group or equivalent examination (A-Levels etc) with minimum 65 % marks. However the candidates awaiting result can also apply and will be required to submit their result later if admission is secured.
The candidates applying for the test of O&A Level or equivalent qualification must have their equivalence certificate issued from IBCC (Inter Board Committee of Chairmen) office. Since the candidate whilst applying for the test might not have his equivalence certificate for A-Level or equivalent, he/she can apply on basis of O-Level equivalence certificate.
Merit Calculation
When applying for test, you should know that your merit will be calculated later after the test to determine your merit number and show you how you stand among the many thousands of applicants giving this test.
The formula for merit calculation for year 2020 is:
40% F.Sc marks + 50% entry test marks + 10% Matric marks
(So you should give extra focus on entry test as it will matter a lot in your merit score)
How To Apply
Firstly you have to purchase a scratch card from any MCB Bank branch which will cost Rs.3000/- and open ETEA website and click on the Register link. That will open an admission form which you will fill carefully and enter personal details as well as the exclusive number present on the scratch card.
After filling the application form including uploading your photograph and academic documents, you will be given a test center choice after which you will submit the form and your admit card will be provided which you will download and print which will be used on your exam day.
Test Centers
The test centers will be located in all the major cities of KPK.
Peshawar
Nowshera
Charsadda
Mardan
Swabi
Abbottabad
Haripur
Mansehra
Swat
Chakdara
Batkhela
Timergara
Kohat
Bannu
D.I. Khan
(Attached is this year's advertisement for ETEA Entry Test, however the date mentioned in this advertisement is the old date, the new date is 18th October 2020.)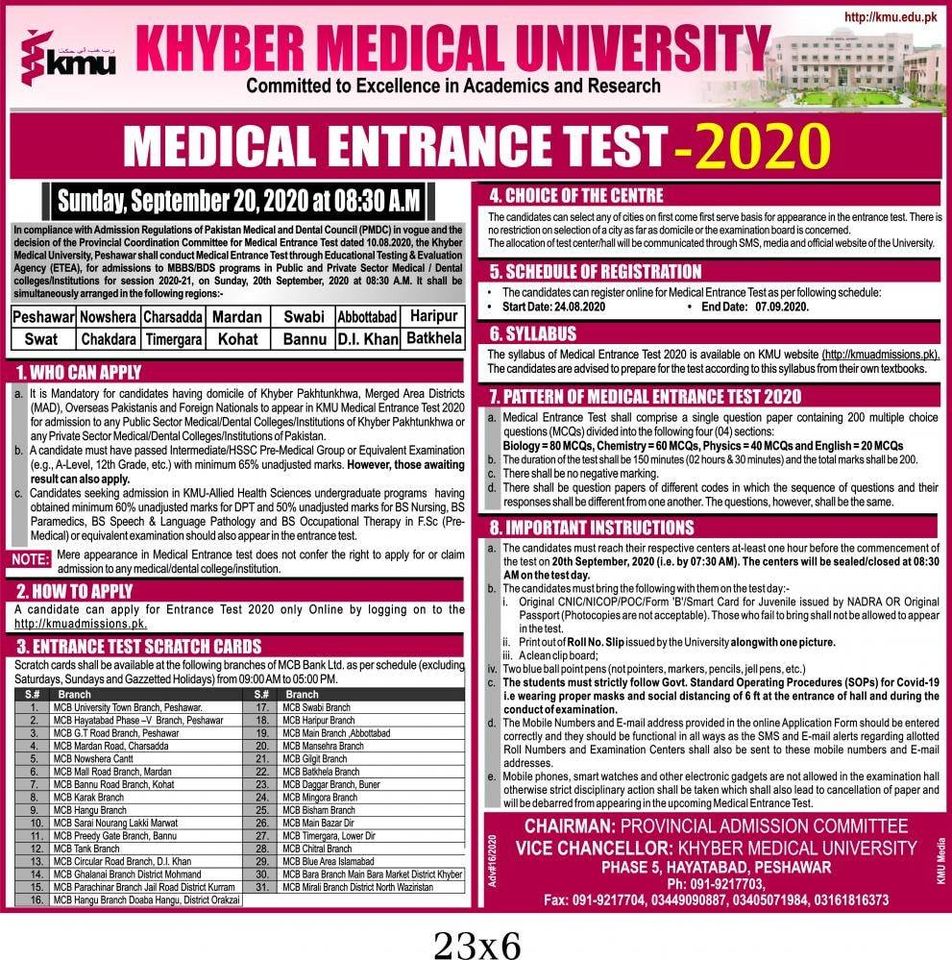 Conclusion
Keep visiting the ETEA site as well as the PrepareHOW site for updates regarding ETEA 2020 test
We at PrepareHOW regularly update and write blogs regarding entry tests and also have past papers.
You can also download the PrepareHOW app for preparation of ETEA test.
You can also visit the PrepareHOW Facebook page to learn the latest news.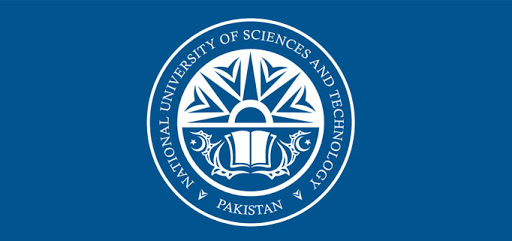 If you are from Punjab and want to apply for medical universities, you have to give MDCAT and NUMS entry tests. For more information on that you can read my blogs:
MDCAT 2020- Test Date And Important Details