Today in this blog you will get to know about the NEW MDCAT Policy for UHS. For more information please read the whole blog.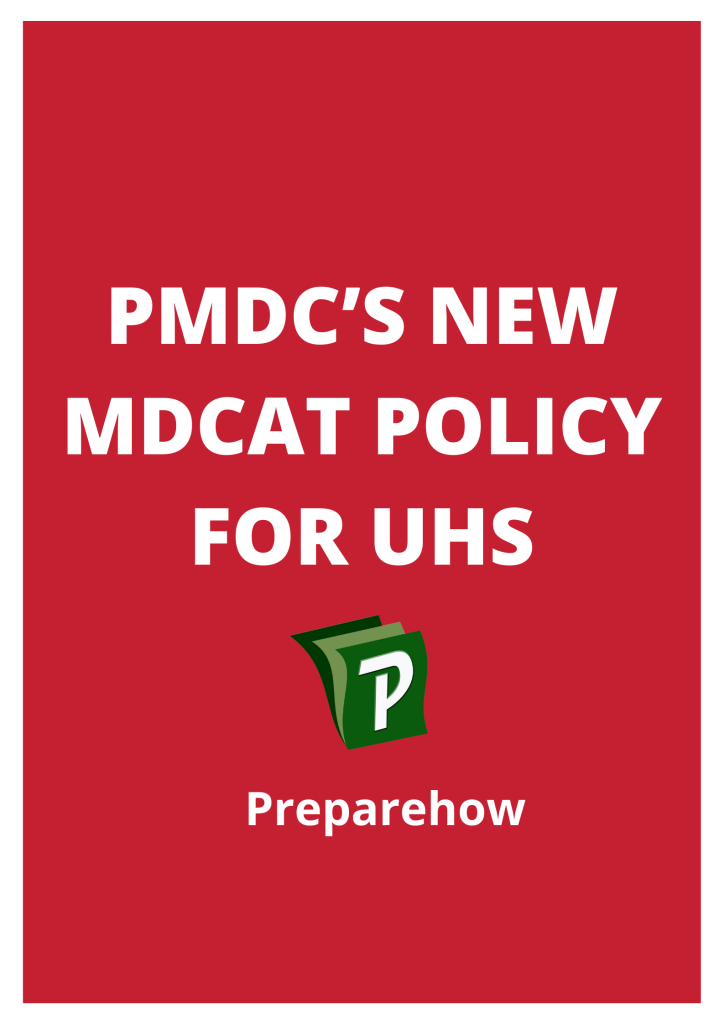 NEW MDCAT Policy
PMDC amended its MBBS and BDS regulations, 2018 on 30th May, 2019. New provisions of the PMDC's new MDCAT policy for UHS are:
Matriculation is not included in the overall aggregate which was 10% previously.
Fsc. Accounts 50% (which was 40% previously) and the same way 50% weight-age for entry test (as same as before) in overall aggregate.
Students applying for admission shall give an

order of preference for their top three choices only

for among public sector medical and dental institutes in the province of domicile and for

two institutes

in other province.
90% seats in any institute are for the students of same province and 10% for students from other provinces.
Test Pattern:
Total marks for entry test are 200.
The distribution of MCQs is :

Biology 80 MCQs
physics 40 MCQs
chemistry 60 MCQs
English 20 MCQs

Each MCQ carry single mark.
There is no negative marking.
Eligibility Criteria:
Student must have obtained minimum 70% marks in HSSC or equivalent (for students of O/A level) and 60% marks in admission test (in terms of marks, students securing less than 120/200 marks in entry test shall not be eligible for admission into medical and dental institutes).
The aggregate must not be less than 70% for medical institutes and 60% for dental institutes.
Chances for Professional Examinations:
Previously students had 4 chances in 1st and 2nd years of education and unlimited chances in other years but now there are only two chances each year and student failing both of them shall be ousted from medical education. (this paragraph is for students studying MBBS or BDS)
All other provisions in new MDCAT policy are same as previous.
To study the new regulations of PMDC for UHS in detail, visit the following link:
http://uhs.edu.pk/mcat/pmdcregulations30052019.pdf
For more guidance on admission test visit preparehow
In addition to the above blog, You can also read the blogs mentioned below:
For more information also visit