This blog "Girl in Engineering" is by a GIK Institute's Alumnus from Batch 25, Maham Hafeez Khan where she talks about settling in GIKI while being a girl and her experiences and perspectives as one. We do agree that opinions may vary but getting the crux of this commonly asked question is a need of hour.
Having said that, here's what Maham has to say:
Girl in Engineering:
The first time I entered the gates of GIK I questioned myself about whether I had made the right decision or not. Even though I had dreamt of this day for about two months, I had my doubts. Hearing stories of girls being virtually nonexistent in this institute, I felt extremely nervous on the thought whether I'd fit into the male-dominated university for the next four years or not.
On arriving there the first day and passing through the Khyber-Pass -Esq gates I quickly realized there's a whole new world within the walls compared to the relatively backward area outside, something that brought some ease to an otherwise tense mind. There were better things to come; Thankfully, the hostels weren't as bad as I initially feared, better in fact, given that we had single rooms with our own bathrooms and all, somewhat of a privilege considering the state of other universities around the country and how they handle the accommodation of their students.
Freshmen need a sense of companionship or someone to have some communication with at the very least, which usually proves to be a good form of emotional support, I had my peers living right down the hallway and it was quite easy to mingle with the whole lot, easily bonded over our mutual fears and excitement of this new world that we had suddenly arrived in.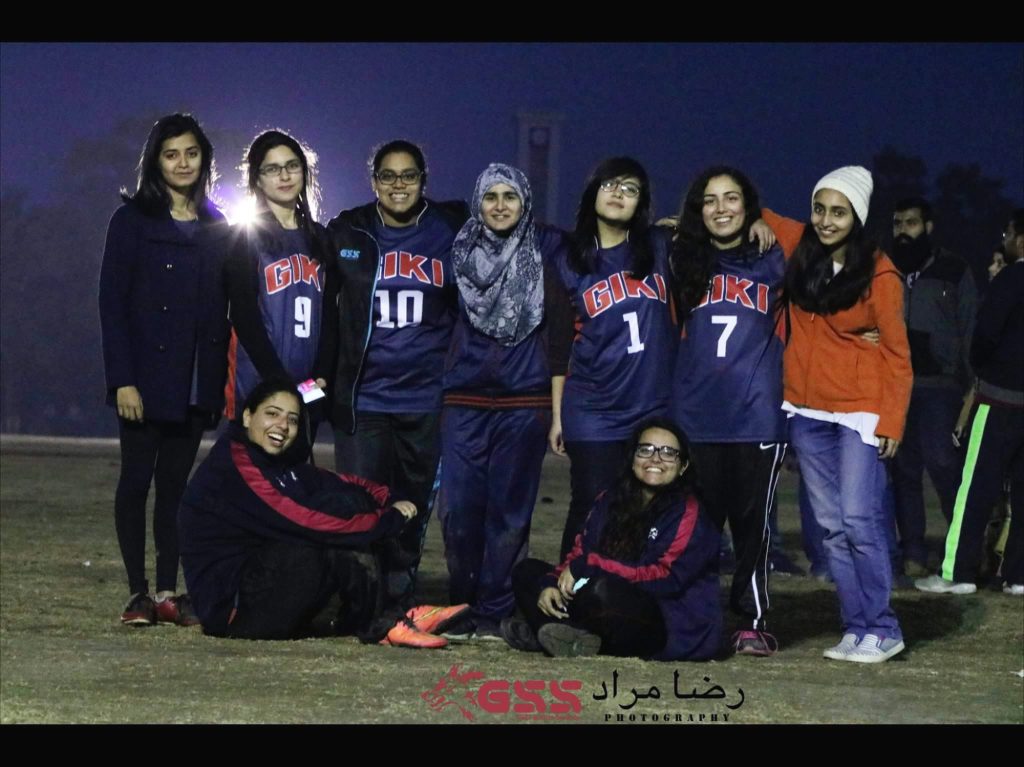 With those thoughts, I walked into the orientation the next day and where it was informed that there was only 1 female to every 16 students here. I felt my anxiety increase yet, I decided to take a tour in hopes that it would reduce fears and uncertainty with my two new found friends. We set off and toured the faculty area first, then proceeded to explore all the pathways that we had come to discover for ourselves. After about an hour of walking, we reached the helipad area. With the smell of rain still fresh in the air and a beautiful view in front of me, I recall saying "Hey this isn't too bad".
As time passed by, slowly, I opened up to my peers; strangers became friends, seniors became familiar friendly faces and a new life started. Back then I was still a shy girl, never taking risks with books being my only best friends. I was also terrified of public speaking and living alone but with the life, I was living now I knew I had to adapt.
Girls, unlike boys, are always sheltered by their parents, peers and even siblings. It starts small, and usually at home, with things such as: "This game is for boys let them play it" or "You're a girl you should always be proper". So when I arrived in GIK after living such a sheltered life, I was immediately struck and shocked by the freedom we had. Sure we had a curfew but we could decide our own schedule and set our own priorities the way we want it. I remember thinking: "How was I even living before? My life has just started".
The independent life that GIKI allows a person to have is much needed for anyone as we spend our entire lives living in our parent's shadows. This allows us to view things from a new perspective and helps you in finding out who you really are. Self-discovery is the first path of this journey we call life and for me, it began after I joined this institute. Along with that, I discovered that for your survival in GIK it is a must to have good friends. This is not hard to accomplish as everyone is very welcoming, especially the seniors. The seniors helped us settle in and their advice saved us from making countless bad decisions.
As I started the adventure of a lifetime the first thing I did was join a society. GIK houses more than 25 active and functioning societies. With events every weekend along with classes, we are required to put at an average 10-12 hours of work daily. It's this journey, with any one of these societies that change you for the better. My first journey came as a series of blows to my introvert shell. Working for such long hours and in a team requires you to interact continuously with people all around you. This helps in socializing and making lasting friendships but it also helps in teaching the importance and mode of communication between individuals of all age groups.
As my work took me into different situations, I learned how to deal with people at a corporate level as well. This instilled in me a new found confidence that I noticed had started to change me for the better. In having a hard time balancing my social life, work, and studies, I learned the concept of time management and its importance in my life. By now, I had fully adjusted to the system and began to really enjoy.
One of the biggest challenges as a girl that I had to face was when I had to lead a group. For me, girls are easier to lead but when it comes to boys, in this patriarchal society, they usually have in my opinion an authority problem. The problem arose as I was given an important position. Boys challenged my position and called me unfit for it. I, being the "new me", took it as a challenge upon myself to prove them wrong.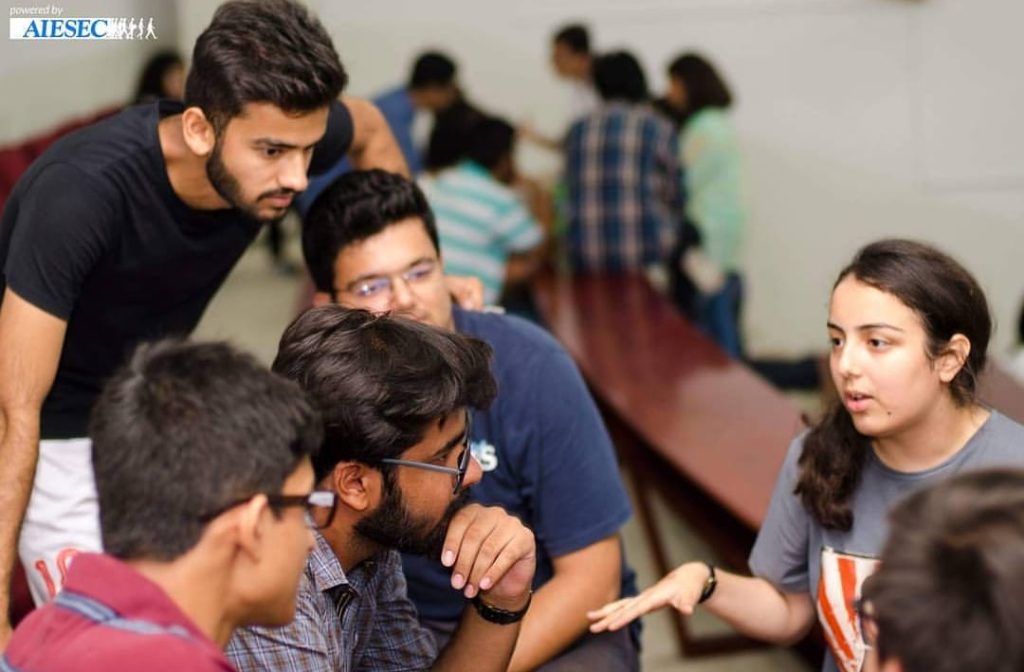 As a minority, we are often faced with problems where our views are not heard or considered and these views are usually regarded as merely a "pretty face". In our society and culture, men are taught to lead and women to follow. This was an issue prevalent in the GIK culture as well but I refused to let that stop me from doing my work.
Being completely unaware of how to handle major tasks, I struggled a lot at the start. I was often made fun of and told to resign. Refusing to give in, even though at one point I had a nervous breakdown, I staggered on. With help from my seniors, I managed to somehow get the project halfway done. Once I got appreciation, my batch mates finally decided that I was more than capable of handling my work so they started to listen to me and put in the effort.
One thing I learned that day was that being a girl is hard as you have to make a place for yourself in a male-dominated society. Boys want us to prove to them first that we are worthy of a said position before they will start helping us out because they have always been motivated to build dreams and take initiatives. Girls are usually not (My general opinion). They go with the flow and sometimes if given new initiatives they often back out and say: "Ye mujh se nahi hoga", before even trying.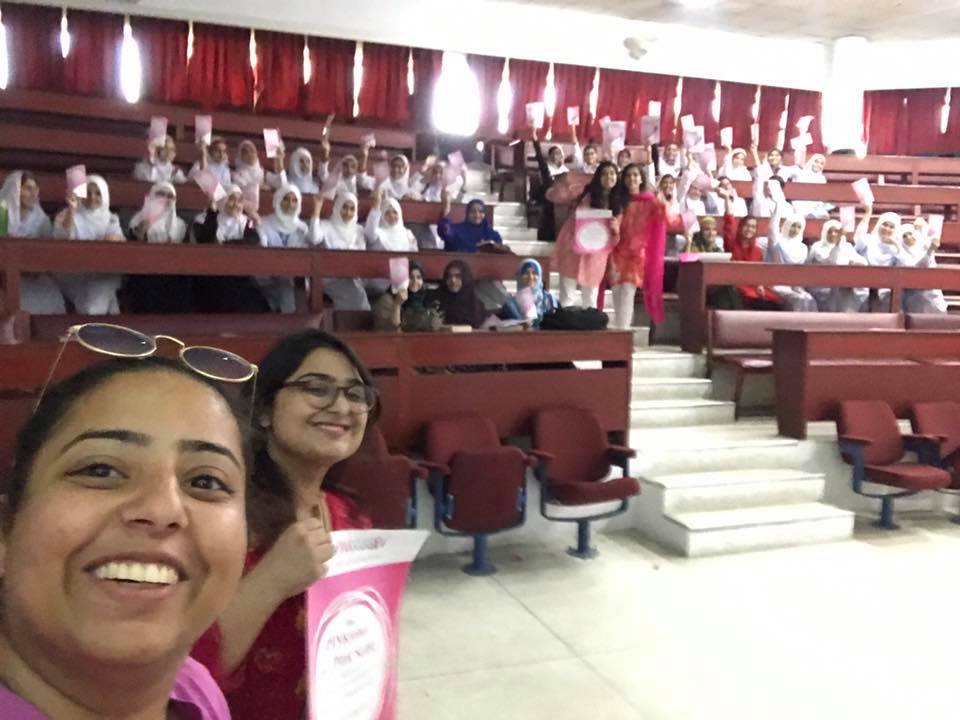 All in all, GIKI taught me how to take on new risks and how dreams can be transformed into realities. When I entered this facility I was a follower; always letting other people think for me but now I am a leader. This place taught me that I am self-sufficient and if I can put my mind to it I can conquer anything in the world. Although I am still on the path of self-discovery, having found my confidence and self-esteem is my biggest achievement. Change comes from within and if we, girls, do not change ourselves no one is going to change the world for us.
Goes without saying, GIKI is not for the weak-hearted, or people not willing to adapt and change. But if adjusted right and playing your cards well, You can gain some valuable skills and experiences that you can be sure no other place in Pakistan can teach you. If you've made it through the admission test and are on your way to becoming a Gikian, I'll be the first to tell you congratulations and welcome aboard! but I'll also be the first to tell you this is merely the tip of the iceberg of a wonderful and ridiculously eventful journey to follow.
Good Luck!
A GIKI BlogPost Original
This blog is taken from the GIKI BlogPost and all the credit goes to them. All thanks to GIKI Alumni Association and to the one and only Rayyan Zahid (Batch 24) – Vice President Marketing – GIKI Alumni Association.
Rayyan Zahid is serving a role that aims to grow and maintain one of the greatest collection of human capital in Pakistan. His responsibilities revolve around building a nexus of opportunities from a network consisting of 6000+ professionals from 70+ countries that are part of the alumni association. He also served as Assistant Manager E-Commerce for Reckitt Benckiser in the past and is currently settled as Climate Reality Leader in United States.