One of the most asked question we received this month is related to NUST Entry test i.e NET updates during COVID-19 situations. So today in this blog we will try our best to answer the queries related to NET. Please keep in mind that the information that is mentioned below is not officially stated by NUST because NUST hasn't shared any information on its website related to NET yet. The information here related to NUST Entry test is stated as per our understanding. For NUST Entry test updates please keep reading the blog.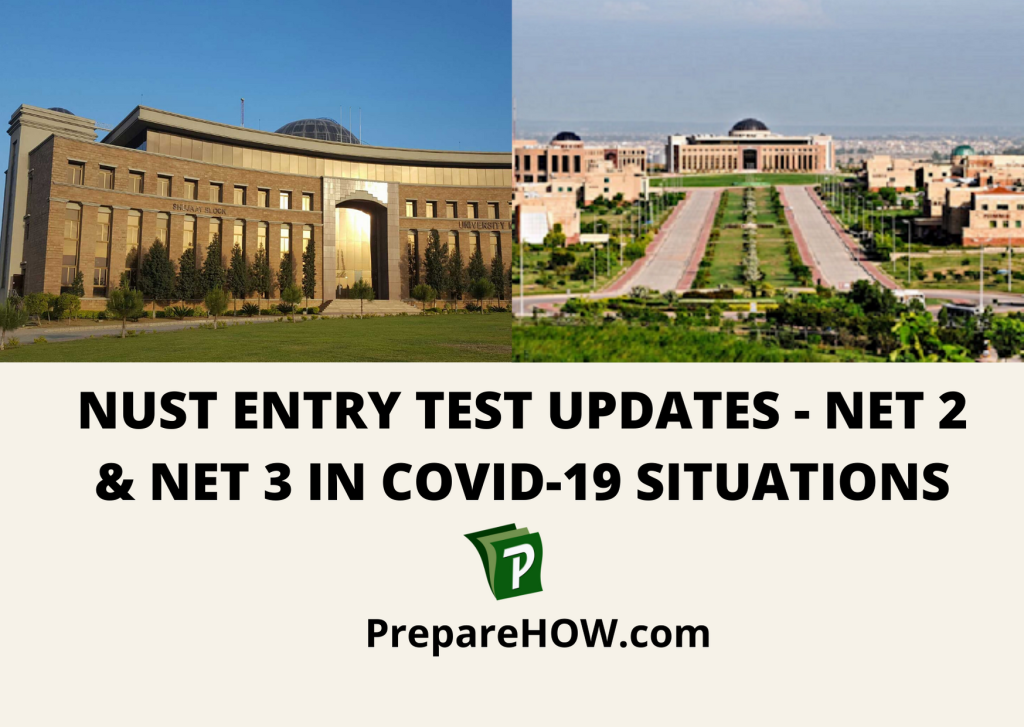 The very first question that need answer is :
Why NET 2 Got postponed:
As we all know that the whole world is trying to endure with the pandemic named as COVID_ 19 . Pakistan is also among the countries where corona virus is affecting the lives of people. So to save the lives of residents of Pakistan from corona virus, our government took some measures. One of the main measure took my government was closing all the private and government educational institutes and postponing the Exams and Entry tests . So now you know the reason behind the NET 2 being postponed.
Basically NET 2 took place on 14th march 2020(One day only ) and after this everything including NET-2 got postponed. The result of NET -2 happened on 14th march can be found on NUST WEBSITE. If you are one of those students who applied for NET-2 but couldn't give the test because of Covid- 19 situation then the application fees you paid for NET – 2 will be compensated . The chances are that with the very same fees you paid for NET 2 , you can apply for NET – 3.
When will NET 3 take place ?
This is one of the most asked questions by students. We will try to answer your queries with all the authentic information we have got.
According to NUST:
Online Registration April – June 2020
Test Schedule June – July 2020
Karachi & Quetta 10 – 12 july 2020
As we all know that government has stated that all the educational activities will take place after 1 june . (If situation becomes better). But government hasn't shared any confirmed notice related to SSC/HSSC exams or admission test schedule . So we are still very unsure about the admission test schedule but
As per our understanding :
As per understanding we can say that the NET -3 will take place in the mid of July or in the start of August.
(It is not officially stated by NUST )
Academic calendar:
Nust hasn't shared any updated information related to the conduction of NET 2 or NET 3 on its website . There are chances that the academic calendar of NUST like every other educational institute will get disturbed but NUST hasn't shared any information related to this. But by keeping the pandemic situation in mind , we can conclude that the academic calendar will get disturbed and NET 3 will most Probably take place in july or august . There is a possibility of NET 3 taking place right after the HSSC Exams.( HSSC exams date isn't confirmed yet ) If Pandemic situation gets better early than dates can be altered ( God knows better )
NUST Entry Test Preparation at home:
Please utilize the spare time you have got because of this pandemic situation wisely. We all know its not very facile for students to prepare for their exams at home. But my advice is that please prepare for your exams and entry tests in this lock down vacations. This is the time you have to utilize to make your future bright. If you are one of those students who are facing difficulties in preparation of entry test because most of the academies are closed, Then there is nothing to get worried about .
E- Learning through prepareHOW:
PREPAREHOW SERVICES :
100+ Academic articles
100+ in depth videos on different topics
Preparatory books for NUST entry test, ECAT and NUMS MDCAT with vast no of MCQS (with explanation).
10,000+ Questions to help students who want to prepare for ETEA, ECAT, MDCAT, NET (NUST), GIKI, FAST, COMSATS, MUET and much more.
PrepareHOW app: PrepareHOW app provides both subject wise preparation for subjects like Physics, Chemistry ,Biology, Mathematics, English, Computer Science, Quantitative Reasoning and Analytical Reasoning. PrepareHOW Mobile App also provides students with an opportunity to prepare for University wise entry test online.
For the Entry test preparation you can take the assistance of PrepareHOW app. So what are you waiting for ? Download the prepareHOW app now and make your future bright like diamond .
For more infromation related to NET 2 & NET 3 please watch
In addition to the above blog, you can also read the following related blogs as well;