The Army Medical College (AMC) was established at Rawalpindi in 1977. The College was initially affiliated with Quaid-i-Azam University, Islamabad for the award of MBBS degree. The college became a constituent College of NUST in 1998 while offering Bachelor in Dental Surgery (BDS) the same year. The college has unique distinction of imparting postgraduate training (MPhil/PhD and FCPS) in basic medical sciences since 2001.
In this article you are going to find useful information about the Army Medical College (AMC) Admission 2020 along with the registration process and frequently asked questions.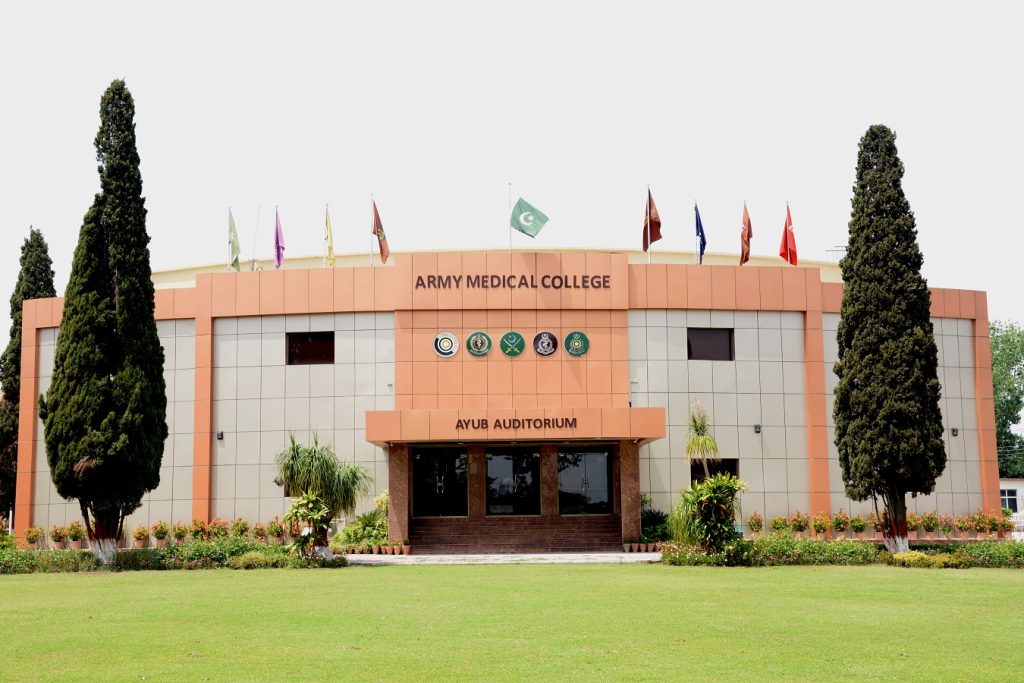 Registration will open from 27th July to 16th August 2020
Hifz e Quran test 5th-6th November
Display Of Merit List Wednesday 13th November
Last Year Closing Merit Was 87.67% (Open Merit) For BDS 87.67%
Foreign MBBS Merit was 86.62% BDS Was 75.97
DETAILS ABOUT TEST TYPES FOR AMC:
ACADEMIC TEST-This is the most important test and consists of Biology chemistry physics and English from the FSc syllabus.
PHYSICAL TEST
Running 1.6km in 8½ minutes
Push-ups. 15 repetition in 2 mins
Sit-ups. 15 repetition in 2 mins
Chin-ups. 3 repetitions in 2 mins
Ditch crossing 7′.4″×7'4″ with depth 4′
MEDICAL TEST-It will be done by Army doctors at ASRC centers.
It includes eyesight vision standards, weight, height Etc.
PERSONALITY TEST-After passing all the above tests, the will be provided by a performa, which will be set to GHQ Rawalpindi, The qualified candidates will be called by GHQ for 2 days personality test in September October.
Day 1. On the first day the candidate undergoes intelligence tests (written) and other personality tests.
AM cadet Personality test
WAT ( 75 words )
SCT ( 2 sets 26 each only English)
Pointer stories ( only 2)
Picture Stories ( only 2)
Days 2. On this day the candidate undergoes a brief interview for Final selection.
Important Points
Provincial Entry Test. Candidates who apply for admission as Medical Cadet (for Army only) in AM College Rawalpindi, CMH Lahore Medical College, Quetta Institute of Medical Sciences, CMH Multan Medical College, Karachi Institute of Medical Sciences Must have registered/appeared themselves in any fresh provincial entry test as eligible (UHS, ETA, MCAT, NUMS, AJ&K State exam, etc).
Candidate must mention the name of College for which applying (Army Medical College Rawalpindi or CMH Lahore Medical College) at the top of the application form (page 1). Candidate can also opt for Colleges priority wise.
During the registration on the internet, the candidate must specify his choice for Colleges carefully.
A candidate selected at merit for one institution shall not be changed.
The candidate selected for MBBS in any of said medical colleges if not appeared/registered in their respective regional exams shall stand ineligible.
ELIGIBILITY CRITERIA FOR AMC
Qualification: 4th or Final Year Student of MBBS of any Medical College recognized by PM&DC
Age (as on 31 2020): 20 to 26 years
Gender: Male
Marital Status: Unmarried
Nationality: Citizen of Pakistan and domicile holders of Azad Kashmir/ Gilgit-Baltistan. Upon final selection, candidates with dual nationality will have to surrender nationalities other than Pakistani.
Minimum Height: 5'-4" or (162.5 cm)
Weight: As per Body Mass Index (BMX)
INELIGIBILITY CONDITIONS FOR AMC
Permanently declared UNFIT by Appeal Medical Board.
Declared medically unfit due to Hepatitis B & C (AMB cannot be requested).
Declared unfit by any Armed Forces Hospital except those cleared by Appeal Medical Board
Withdrawn from any Academy / Training Institution of Armed Forces on any ground.
Withdrawn from any bonded Armed Forces college/institution on disciplinary grounds.
Dismissed/removed/ debarred from Govt Services including Armed Forces.
Convicted in a Court of Law for an offense involving moral turpitude.
Twice Screened Out by ISSB.
Twice rejected for 'M' Cadets by GHQ / AHQ / NHQ Selection Boards.
The candidature of a candidate who will temper his academic certificates, conceal or give wrong info to gain an undue advantage will be cancelled and declared permanently ineligible for all types of commission in the Armed Forces.
ARMY MEDICAL COLLEGE (AMC) REGISTRATION AND PRELIMINARY SELECTION PROCEDURE
Candidates can either register through the internet on the website: www.joinpakarmy.gov.pk or by visiting the nearest Army Selection and Recruitment Centres (AS&RCs).
REGISTRATION AT AS&RCS
The candidates may report at following Army Selection and Recruitment Centres for registration/allotment of roll no along with necessary documents mentioned in para 4 for completion of registration formalities. The candidates will bring these documents on the date of the test as well:
AS&RC Rawalpindi
AS&RC Lahore
AS&RC Karachi
AS&RC Peshawar
AS&RC Quetta
AS&RC Multan
AS&RC Hyderabad
AS&RC Muzaffarabad
AS&RC Gilgit
AS&RC Faisalabad
AS&RC Dera Ismail Khan
AS&RC Khuzdar
AS&RC Pano Aqil
SCHEDULE OF REGISTRATION 2020 AMC / PRELIMINARY TESTS
Registration and Preliminary Test will be held as per the following schedule:
Registration: 10 July to 31 August
Preliminary Tests Including Intelligence Test: 04 to 20 September
PHYSICAL TEST FOR AMC
1.6 Km run- 8 ½ minutes
Push Ups – 15 repetition in 2 minutes
Sits Ups- 15 repetition in 2 minutes
Chin Ups- 3 repetitions in 2 minutes
Ditch Crossing- 7'.4" x 7'.4" with a depth of 4 feet
Preliminary Medical Test:
Initial medical test at AS&RCs.
Important Points for Medical Cadet at AMC
An 'M' Cadet, after his enrollment under this Scheme, shall continue to study in the Medical College in which he is on roll until the completion of his Medical graduation and during that period he shall be subject to the Pakistan Army Act, 1952 and rules, regulations and orders made thereunder.
Documents Required
2 x attested photocopies of educational certificates.
2 x attested photocopies of Computerized National Identity Card or Form 'B' issued by NADRA.
4 x attested passport size photographs.
Candidates will deposit pay order of Rs 500/- clearly indicating 'Payable at any Branch in Pakistan' in favor of Surgeon General/ DGMS (IS), Medical Directorate / DMS-1, GHQ Rawalpindi.
Important Note
Registration For Applying in Army Medical College Admission 2020 is held in the light of Judgment of Lahore High Court. New Date for Registration will be Announce Here very Soon.
Further selection for AMC
Shortlisted candidates will receive notice for intelligence/ personality test and interviews by the GHQ Selection Board at their nearest stations through the website as well as call up letter. Medical Fitness of candidates who are selected in the final interview shall be carried out at nearest CMHs. Final selection will be made at GHQ on the basis of the candidate's overall performance.
Military Training for AMC
22 x weeks Basic Military Training (BMT) at Army Medical Corps School & Centre Abbottabad within one month after MBBS and induction as Short Service Regular Commission (SSRC) officer by GHQ PA Directorate.
Bond
Finally selected candidates will be required to sign a bond to serve the Army Medical Corps for a minimum of six years, after passing the MBBS.
For more information you are encouraged to visit.