Today in this blog you will get all the information related to HEC NEW policy of allowing pre- medical students to take admission in undergraduate computing programs. For more information please keep reading the blog.
The general council of NCEAC in his 36th meeting that took place on 13th march 2020 has took the following decisions:
NCEAC:
NCEAC is recognized accreditator of computing programs in Pakistan.
HEC New Policy:
With intermediate effect, The NCEAS has allowed the students of pre-medical to take admission in all the (Bachelors) Undergraduate computing programs.
Computing Programs include:
Cs (Computer Science)
SE (Software Engineering)
IT (Information Technology)
DS (Data Science)
Cysec( Cyber Security)
So according to the HEC New policy students who have passed the intermediate with pre-medical subjects are allowed to take admission in the computing Programs:
HEC NEW POLICY | Criteria set for pre-medical students:
Pre-medical students who wish to take admission in the computing programs need to pass deficiency courses of mathematics within the period of one year of the regular studies.
Please keep in mind that the courses must cover all the relevant topics to the(Undergraduate) computing degree from the fsc level mathematics.
NCEAC will only visit for accreditation those institutes who are adhering to the approved admission criteria that is being mentioned in the HEC Computing curriculum 2017
With the very recent approval it is mandatory for institution to grant admission to only those students who have scored 50% marks in intermediate/equivalent with either mathematics as a subject or pre-medical as a discipline.
For more information related to the HEC-new policy you can contact the NCEAC team on the email addresses mentioned below:
The official notification is shown below: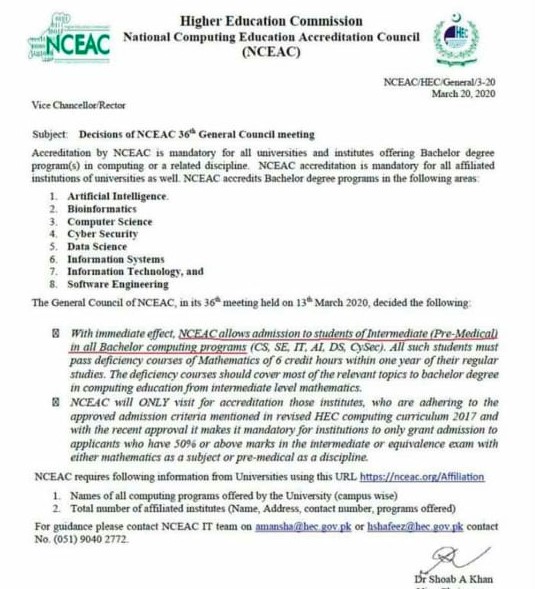 In addition to the above blog, you can also read the following related blogs as well;
For more information also visit
For Entry test preparation you can take assistance of Entry test Preparation App.