Today in this blog you will get to know about UMT admission Undergraduate offered programs. Students who wish to or are planning to take admission in UMT can take assistance of this blog. For more information please read the whole blog.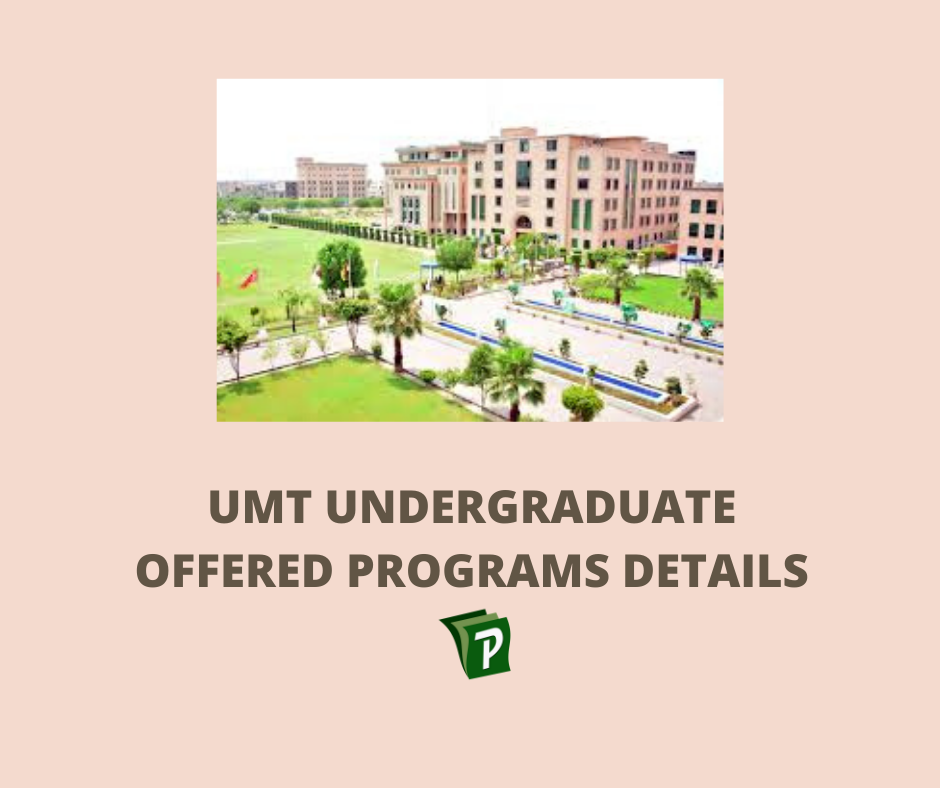 UMT UG Offered Programs:
Institute of Aviation Studies :
BS aviation Management
BS Air craft Maintenance Engineering Technology
Institute of Clinical Psychology :
Institute of liberal arts :
BS hons in English literature
BA Liberal arts
BS Hons English literature and linguistics
School of architecture and Planning:
B Architecture ( offered in fall only)
BS City and regional planning
Bachelors of landscape Agriculture
School of business and economics
Bachelors of business administration
Bachelors of Business and Information Systems
BS Accounting and finance
BS Operations and Supply chain management
School of Commerce and Accountancy :
BCOM hons
BS Actuarial Sciences and Risk management
BS Business Management and accounting
BS Accounting
School of Engineering :
BS Civil Engineering
BS Electrical Engineering
BS Mechanical Engineering
School of Food and Agricultural Sciences:
BS Food Science and Technology
School of Governance and Society :
School of Health Sciences:
BS Medical Imaging and Ultrasonography
BS Nutrition Sciences
Doctor of Physiotherapy
School of Law and Policy
School of media and communication studies:
BS Media and Communication
School of professional Advancement :
Bachelors of professional studies
School Of science:
BS Bio chemistry
BS Bio- Technology
BS Chemistry
BS Micro- Biology
BS Zoology
BS Statistics
BS Statistics
BS Mathematics
BS Physics
School of Social Sciences and Humanities
BS International Relations
BS Political Sciences
BS Psychology
BS Hons in Special Needs Education
School Of systems and technology :
BS Computer Science BSCS
BS Information Technology (BS IT)
BS Software Engineering
BS Artificial Intelligence
BS in Computing and Data Science
School of Textile and Design:
BS Textiles
Bachelors of Graphic Design
Bachelors of Fashion Design
Bachelors of Interior Design
Bachelor of Textile Design
UMT Offers a wide range of disciplines to students. If you wish to take admission in any of the degrees mentioned above , then you can apply in UMT. Please remember that UMT offers graduate programs as well.
For admission details please visit UMT website .
In addition to the above blog, You can also read the blogs mentioned below:
For Entry test preparation you can take assistance of PrepareHOW app.
Note : If you any queries related to the entry test preparation please visit our website . or Downdload our app.