This blog is for the students who wanted to get information related to Law Admission test If you are one one of those students who want to pursue Law but have minute knowledge related to LAT in Pakistan then this blog can really help you.. For more information related to Law Admission test, Please read the whole blog.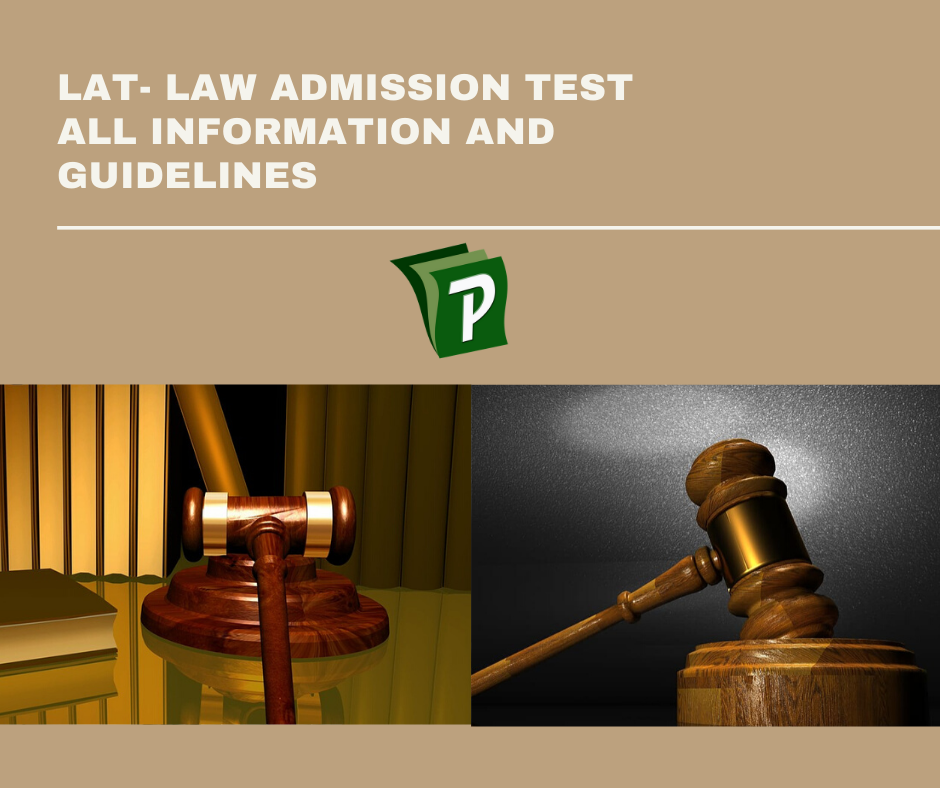 LAT:
LAT Stands for law admission test. It is a basic to get admission in LLB. The main aim behind conduction of LAT is to check the amplitude of a candidate towards law degree. It is known as HEC LAT Test. If you have passed LAT then you can take admission in any HEC/PBC recognized Law college or Universities.
LAT Eligibility Criteria:
To apply for LAT you need to keep the following things in mind:
Students who have passed FSC/F.A/I.CS (Or Equivalent) are eligible to apply for LAT.
Students who are awaiting for result of Intermediate part 2 are also eligible to apply for LAT.
LAW Admission test pattern:
Total Marks = 100
Passing Marks= 50
LAT syllabus and marks division :
Essay (English/Urdu) = 15 Marks
Personal Statement (English/Urdu) = 10 Marks
MCQ,s English= 20 marks
MCQ'S Urdu = 10
MCQ'S Pakistan Studies = 10
MCQ'S Mathematics=5
MCQ'S General Knowledge=20
MCQ'S Islamic Studies=10
Nature of MCQ's:
English MCQ's will consist of Synonyms, Antonyms, Prepositions etc.
In the case of Urdu MCQ's Vocabulary will matter the most.
Do not get worried about Mathematics MCQ's , it will be basic math only.
Essay Should be of 200 words
Personal statement should be of 200 words
How to Apply For Law Admission Test:
To apply for LAT go to HEC website.
The very first step is profile completion. You can complete your profile by clicking My profile section.
To complete the profile you need to fill in the information that will be asked, for instance you name, Father's name etc
After completion of profile the next step is to click on the ''Law Admission Test" link on the menu panel on the left-hand sidebar of the online portal of HEC website.
Click on the submit application button to get yourself registered.
Only Submitted applications will be entertained
Test fee id 500 Pkr which can be submitted online or via atm
Account # 17427900133401, Account title " Higher Education Commission, Bank, HBL, Branch Code: 1742.
Law admission test application are required to send a copy of Fee Deposit Slip at the address mentioned below:
Room no 13-209, 2nd Floor, HRD Building, HEC, Sector H-8, Islamabad .
Please do not forget to mentioned your CNIC no on the back of deposit slip.
Online registration deadline:
21st July 2020
For more information related to Law Admission test click here
For any queries feel free to visit our website and message us , your question will surely be entertained.
In addition to the above blog, You can also read the blogs mentioned below:
For Entry test preparation you can take assistance of PrepareHOW app.
Note : If you any queries related to the entry test preparation please visit our website . or Downdload our app.