This blog will provide assistance to the students who wish to take admission in SZABIST which is commonly know also known as Shaheed Zulfikar Ali Bhutto Institute of Science & Technology. For more information read the whole blog.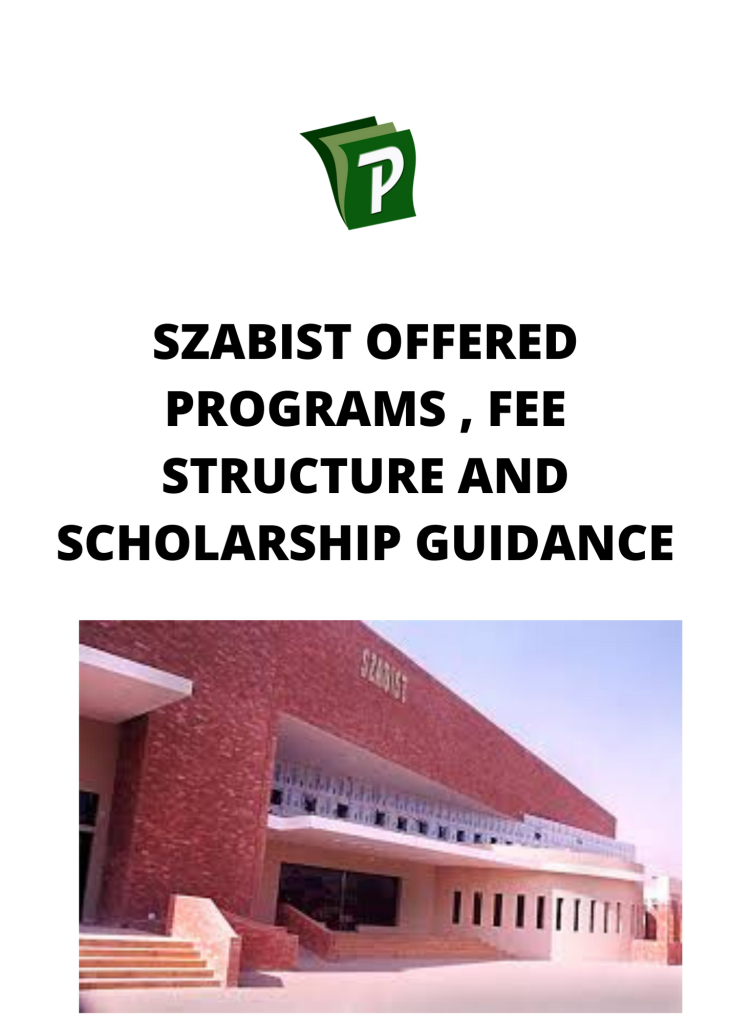 Undergraduate Programs offered by SZABIST university :
BBA
BS Accounting and finance
BA hons Buisness studies
BS Entrepreneurship
BS Computer Science
BE Mechatronics
BS Social Sciences
BS Media Sciences
BS Bio Technology
BS Bio-sciences
LLB
Certificate of Higher Education in Common Law
Graduate Programs:
MS Project Management
Master in project management (MBM)
EMBA
MS Management Science
MS Computer Science
MS Mechatronics Engineering
MS International Relations
MS Economics
MS Psychology
MS Sociology
MS Media Studies
MS Bio-sciences
MS Public health
MA Education
MS Educational Leadership and management
MS Media Sciences
MS Bio- Sciences
MS Public Health
PhD Programs
PhD (Computing)
PhD in Educational Leadership and Management (Evening)
PhD Social Sciences
PhD in Biosciences
SZABIST UG programs FEE STRUCTURE:
BBA Program : PKR 108,900 per semester
B.E Mechatronics : PKR 84,000 per semester
BS Social Sciences : PKR 99,000 per semester
BS bio-technology : PKR 87,000 per semester
BS Bio- Sciences PKR 87,000 per semester
B.Ed program (1.5 years) PKR 99,000 per semester
BS (Social Sciences) Program = PKR 99,000 per semester
Bachelor of Media Science Program = PKR 145,800 per semester
BS (Entrepreneurship) Program = PKR 104,400 per semester
BS (Accounting & Finance) Program = PKR 108,900 per semester
BS (Computer Science) Program = PKR 92,900 per semester
SZABIST need based scholarship 2020:
Student who want to avail the offer of scholarship in SZABIST are requested to apply for the scholarships as soon as possible. You can submit the form online
Eligibility Criteria for the scholarship:
For current students :
Students need to have the CGPA of minimum 2.5 to be eligible for the scholarship
If the yearly income of the student family is more than 900,000 then the students is not eligible for the scholarship
Last date to apply for SZABIST Scholarship:
17th July 2020
For more information related to the SZABIST scholarship please visit the website.
n addition to the above blog, You can also read the blogs mentioned below:
For more information also visit