Today in this blog i would like to share a news about special CSS Exams that will be conducted this year to fill 188 vacant post. This news can be stated as one of the really good news of this year . For more information related to special CSS Exams please keep reading the blog.
Special CSS Exams 2020
Starting from the source of this news. This news got announced on the Hamid Mir's show by the Shahzad Arbab. Shahzad Arbab is the Adviser on establishment. This special CSS Exam has been approved by PM Imran khan. This exam will be conducted in November 2020
Aim behind Special CSS Exam 2020
Shahzad Arbab on his twitter account stated that :
PM Imran Khan approves special CSS exam to fill 188 vacancies in federal services carried over in last few yrs. Balochistan 49, Rural Sind 41, Urban Sind 19, KP 22, ex Fata/GB 16 & AJK 2. We truly believe in giving equal opportunities to all federating units.
So the aim behind this CSS Special Exams is very clear now. For sure this exam will be conducted to fill the 188 vacant posts. Basically the current government has taken the step for the future of aspirants living in Balochistan , Sindh rural , KPK and FATA/GB . Every year due to uneven education system in Pakistan seats remain vacant for Balochistan, Sindh rural , KPK , FATA/GB .
Vacant Seats :
Rural Sindh 41
Sindh Urban 19
Balochistan 49
KP 22
FATA/GB AJK 2
The Federal Public Service Commission has taken the step to fill these vacant seats. The exams will take place in November or December 2020. Date will get confirmed after the pandemic situation becomes normal. However there is no confirmed news related to the special CSS Exams syllabus.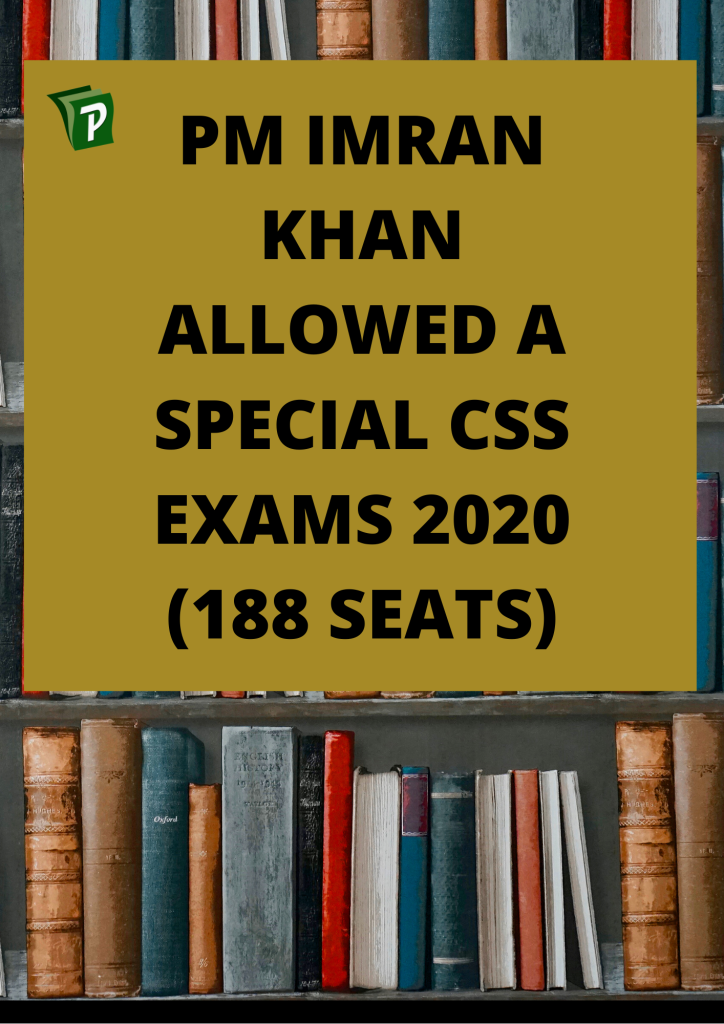 Note:
Please keep in mind that the CSS Exam would only be taken once a year( in a conventional way). However, PM Imran khan has approved the CSS Special Exams to fill the 188 vacant seats. This exams is most likely to be conducted In November or December.
In addition to the above blog, you can also read the following related blogs as well:
For more information also visit
For Entry test preparation you can take assistance of Entry Test Preparation App.
Note : If you any queries related to the entry test preparation please visit our website . or Downdload our app.