This blog will provide assistance to the students who wish to apply for PEEF scholarship. For more information please keep reading the blog.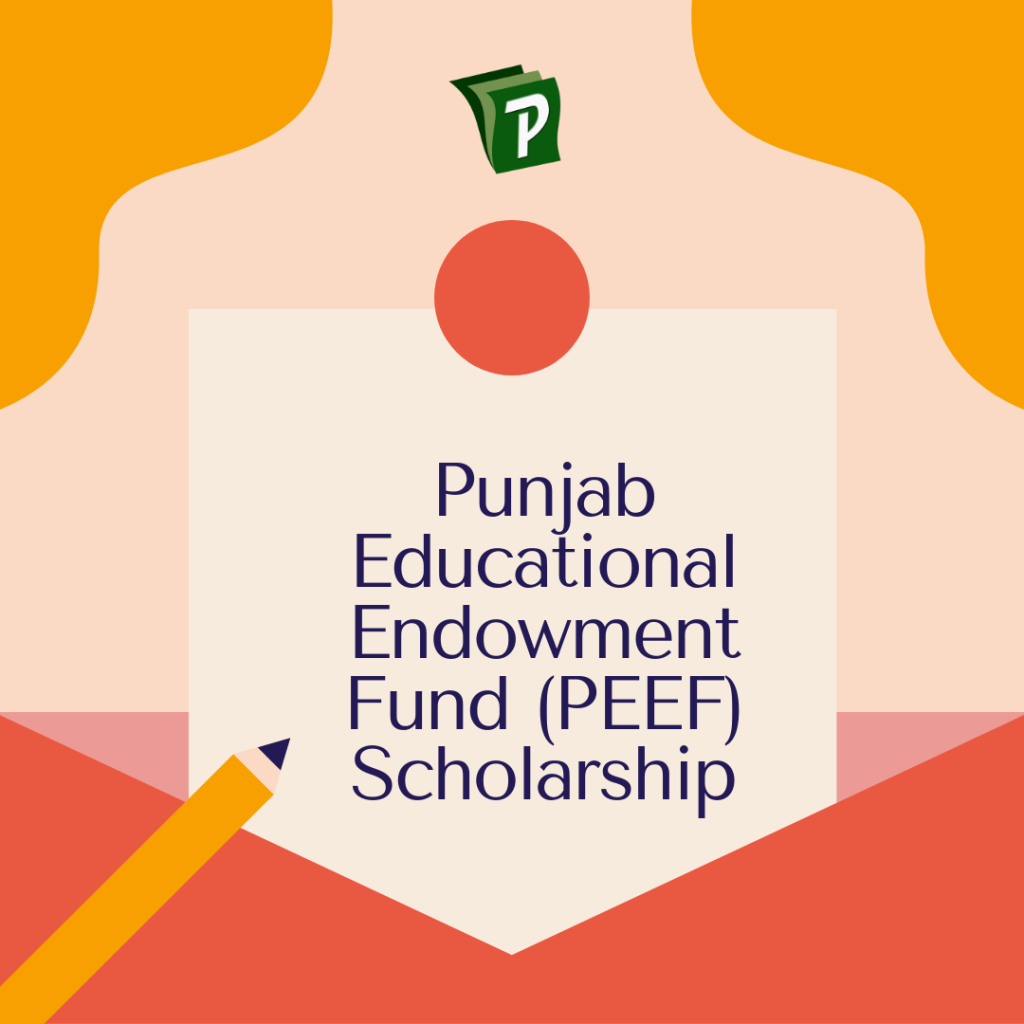 Punjab Educational Endowment Fund (PEEF) Scholarship
PEEF Scholarship for Undergraduate Level:
Eligibility Criteria:
Candidates wishing to qualify for the PEEF Scholarship need to pass the criteria mentioned below:
Candidates should have the Punjab domi​cile .
Candidates applying for PEEF should score minimum 60% marks in last degree finals.
Student should have Passed the examination as a regular student from:
Any Government Institution, or students who are Continuing scholar of the respective institution are also eligible to apply.
As a Private student
Any Private Institution (private institutions with low fees)
Students applying for this scholarship should not have a monthly household income more than the Rs.3000.
If you are availing any other scholarship opportunity (Educational) during the respective academic year then you are not eligible for PEEF Scholarship.
PEEF Scholarship Package for UG level:
Candidates selected for PEEF Scholarship will receive the amount of Rs. 9680 per month
PEEF Scholarship For Master Level:
Eligibility Criteria For Master Programs:
Candidates should have the Punjab domi​cile .
Applicants for PEEF scholarship need to Score minimum 60% marks or atleast CGPA 2.5 in BA/ B.Sc./ BBA/ B.COM/ BS/ in final examination (Punjab)
It is mandatory for applicant to Secure admission as a full time student in the current academic year in Degree Awarding Institution / one of the partner University
If you are one of those students who got enrolled in spring/fall session (where applicable) and morning/ afternoon / evening sessions (where applicable) are also entitled to apply for PEEF Masters scholarships
Students with Rs 30,000/less than 30,000 declared monthly income of parents (from all sources) are eligible to apply for PEEF scholarship
Children of Government workers in BPS 1-4 are free from condition of income (30,000), if salary is only source of income for them
Scholarship Package for Masters Students
100 % tuition fee will be granted to the selected students (for regular semesters only)
Monthly Stipend to the selected scholars at the rates mentioned below:
Day scholars will get Rs. 3,000/- per month.
Boarder Rs. 5,000/- per month.
​How to apply for PEEF Scholarship
Whenever the PEEF scholarships are available institutions are informed Institutions are informed
For most of the times they get offered in September/October (Tentatively )
Information is also made available​ on web portal for students who wish to apply for this scholarshipStudents can also apply by submitting NUST need Based Scholarship Application Form​​ in their institutions.
. Students who are in 1st semester (Fall entry students) ONLY , and students in second semester (Spring session students) ONLY are eligible to applyInstitutions will forward forms in respect of shortlisted applications to NUST Financial Aid Office, PGP Dte.
Applicants that will be called off for the interview are required to appear for an interview that will be conducted by scholarship award committee at Main Office of Nust
Continuition of scholarship:
Students who have been selected for PEEF scholarship need to keep the Satisfactory Academic performance
Good Conduct of the students is also very important.
Provision of progress reports to FAO after each semester is required for the continuation of scholarship
Availability of Funds factor matters too.
In addition to the above blog, You can also read the blogs mentioned below:
For more information also visit
For Entry test preparation you can take assistance of Entry test Preparation App.
Fo more information related to PEEF Scholarship click here .