Students who are confused regarding Comsats admission policy of fall 2020 can take assistance of this blog to eliminate their confusion. For more information please keep reading the blog.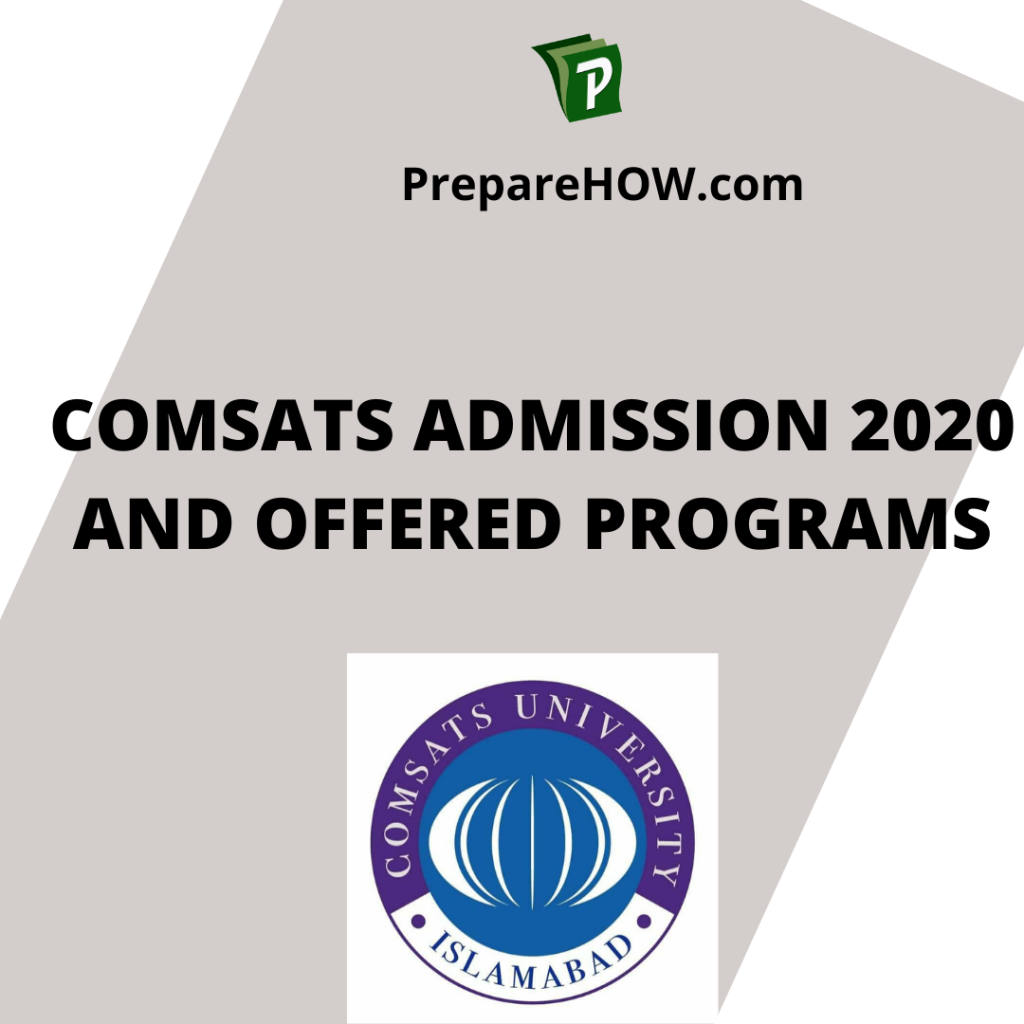 COMSATS Admission 2020:
Due to covid-19 the admission criteria is slightly altered. For more information keep reading the blog
Admissions will be opened from 1st august 2020.
Registration will be online. Hard copy is not accepted.
For online application visit COMSATS
COMSATS Entry Test :
No entry test will be conducted for non-engineering programs
For BS engineering programs entry test will be conducted.
Departmental test will also be conducted for department of architecture and design
Departmental test includes drawing and interview
For graduate programs the entry test policy will be announced soon
For more information related to COMSATS Admission please visit COMSATS
PROGRAMS OFFERED BY COMSATS UNIVERSITY:
Total number of programs offered by COMSATS = 97
UNDER GRADUATE PROGRAMS OFFERED BY COMSATS UNIVERSITY
BS Media and Communication Studies
BS Statistics
BS Computer Science
BS Software Engineering (Non-Engg)
BS Chemical Engineering
BS Computer Engineering
BS Electrical Engineering
BS Business Administration
BS Economics
BS Accounting & Finance
BS Physics
BS Statics
BS Psychology
BS Mathematics
BS Earth sciences
BS Telecommunication and networking
BS Mechanical Engineering
BS Psychology
BS Electrical Power Engineering
BS Bio Technology
BS Environmental Sciences
Bachelor of Design
Bachelor in Interior Design
Bachelor of Architecture
GRADUATE PROGRAMS OFFERED BY COMSATS UNIVERSITY
MBA
MS Physics
MS Statistics
MS Mathematics
MS Computer Science
MS Chemical Engineering
MS Electrical Engineering
MS Management Science
MS Project Management
MS English (Linguistics & Literature)
MS Economics
MS Chemistry
PHD PROGRAMS OFFERED BY COMSATS UNIVERSITY:
PhD Physics
PhD Statistics
PhD Computer Science
PhD Chemical Engineering
PhD Chemistry
PhD Electrical Engineering
PhD Management Science
PhD Mathematics
Not every Program mentioned above is offered in every campus of Comsat University .
In addition to the above blog, You can also read the blogs mentioned below:
For Entry test preparation you can take assistance of PrepareHOW app.
Note : If you any queries related to the entry test preparation please visit our website . or Downdload our app.