Are you confused about the scope of Food Technology in Pakistan. Then You are at a very right place . Although this discipline is not as famous as medical or engineering but there is one thing I can assure you about is that the Scope of Food Technology is Vast. It is an emerging filed for sure. Fore more information please keep reading the blog.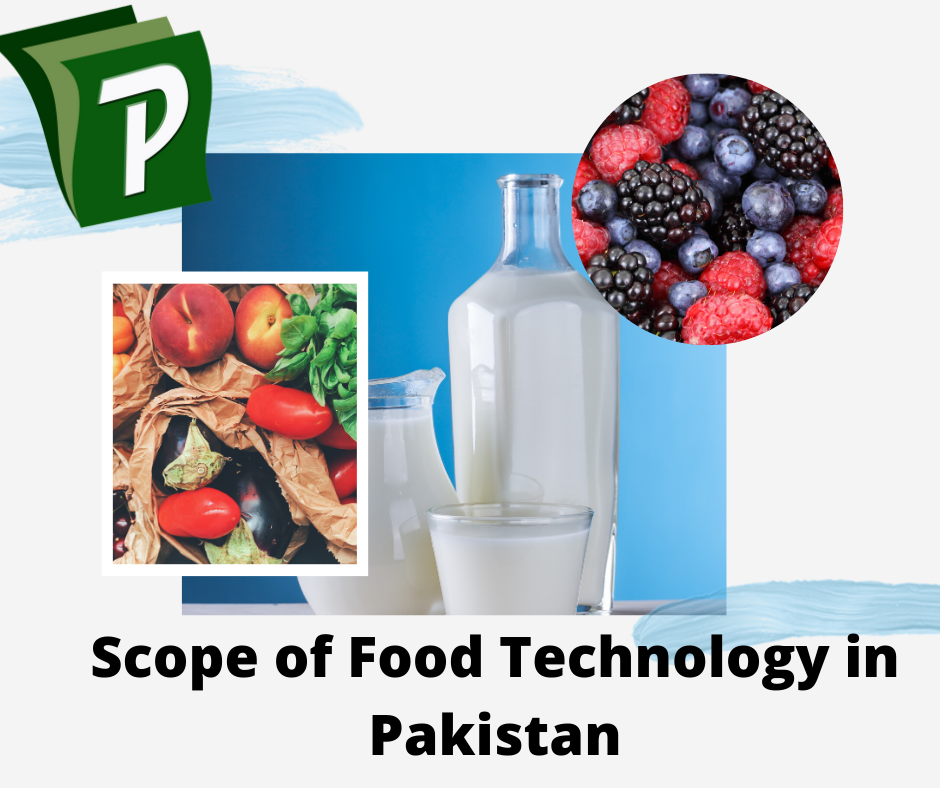 Food Technology
Food technology degree is associated with the study of selection, preservation , production of food Basically this degree graduate ensures the good quality of food. Food technology is also known as food engineering. Point to be noted here is that this field is very diverse. It is not only associated with biology. It includes Chemistry, Biology, Physics and engineering Furthermore, Cutting the long story short basically it deals with the production processing, preservation and packaging of food. Maintaining the hygienic level of food also comes under the category of food scientists responsibility.They deal with all types of foods like meat, fruits, vegetables, cereals, fish, egg, milk, and even spices.
Food scientists:
Main job of a food scientist is to verify the raw materials, maintain hygienic conditionsand ensure the quality of the food. As mentioned earlier the job responsibility of food scientists ranges from food production, Food Checking to distribution level.
Eligibility criteria for BSc / BS Food Engineering
Although the Eligibility citeria of BSc Food Engineering differ in different institutes but the most probable one is mentioned below:
FSc Pre-Medical with major subjects (Biology, Chemistry, Physics) or Equivalent
50% marks
Home District domicile
Scope of food technology in Pakistan:
The scope of food technology in Pakistan is very huge. With the passage of time the demand for food scientists who can verify that the food is halal and healthy have been immensely increased. Pakistan food departments need faculty to work for the examination of halal and healthy food in different food industries, hotels and markets. So this field can open up the doors to success.
Career Options
After completing this degree you can become:
Food Technologist
Food and Drug Inspector
Food Scientist
Food Science Technician
Food Manufacturing Specialist
Food product developers
Food safety analyst
Food system Manager
Employment areas for food technology Graduates:
A vast number of career opportunities are available for Food Technology students both in Governme and Private sectors. Following are some of them;
Agricultural provincial & federal government departments
Research organizations
Multinational & local Food industry
Public & private sector food testing laboratories
Food regulatory & certification organizations
Food authorities
Colleges and universities
Small business development agencies
Dairy development sector
Hotel industry
Food ingredient suppliers
Job Opportunities
Job opportunities are available in the following sections after the completing the degree:
Food Inspector
Quality control and quality assurance section of any food industry
Production and processing sections
New product development
Process engineering
Professorship
You can go in research field too
Salary :
The average salary of food technology graduates varies from 35000 to 50000. It can be more than 70k too but it depends on your job type and experience as well.
Institutes offering Food technology Discipline in Pakistan
Gomal University
University Of Agriculture
University Of Karachi
Bahauddin Zakariya University, Multan
University Of Veterinary And Animal Sciences
Jinnah University For Women
The University Of Lahore ( Main Campus )
University Of Management And Technology
University Of Sargodha (lyallpur Campus)
Government College University Faisalabad (layyah Campus)
There is a possibility that not every institute is mentioned in this blog.
In addition to the above blog, you can also read the following related blogs as well;
For more information also visit
Note : If you any queries related to the entry test preparation please visit our website . or Downdload our app.