In this article, the syllabus of the entry test of University of Health Sciences (UHS) is given along with other details including the test pattern and other things.
MDCAT SYLLABUS
UHS MDCAT will be conducted by the University of Health Sciences Lahore in August or September 2020. MDCAT has 50% in aggregate marks for admission in MBBS.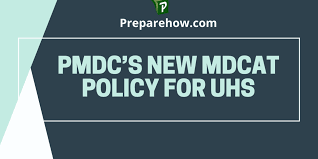 MDCAT ENTRY TEST PAPER PATTERN
The paper pattern of is as follows. This is a Multiple Choice -Based Paper a The total number of Questions is 220. Each Question carries Equal 5 Marks.
In Case of the wrong answer, 6 marks will be deducted. If you gave the correct answer 5 marks will be awarded.
180 minutes of entry test mdcat paper.
Question from these subjects, Strictly follow the Syllabus
Biology
Chemistry
Physics
English
SYLLABUS 2020
MDCAT syllabus has four portions.
Biology
Chemistry
Physics
English
Entry Test Registration 2020
MDCAT Registration will be open in September 2020.
MDCAT Registration will be open in August 2020. Step by step guide will be updated when officially registration will be open. keep visiting for the latest news.
For more information please visit.