MBBS IN CHINA 2020
This article is aimed to provide complete guidelines about MBBS in China.
. You can do MBBS at a low fee from China while you can travel via road from Pakistan to China.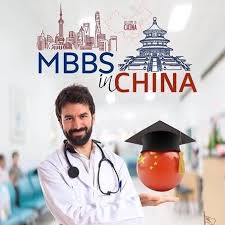 REQUIRED DOCUMENTS
for the JW202 process
High School Transcripts( 10th & 12th result
Passport Copy
Filled out the application form
Physical Examination Form
Filled Out Resume
Passport Size Picture
Police Character Certificate / attested by the foreign office
Bank statement of 5000$
Signed detailed fee structure by student & Guardian
SCHOLARSHIP
There is new student entry scholarship of 7000RMB (154599.43 PKR) which will be given after payment of
2nd-year University fee.All those students who have 70% Marks in English & Biology and
65% in Chemistry & Biology will get this scholarship.
FEE STRUCTURE FOR MBBS IN CHINA
Here is the complete fee structure for mbbs in china admission.
Tuition Fee 10500 Tuition Fee 14500
Hostel Fee 3500 Hostel Fee 3500
Liaison Fee 21550 Visa Extension: 800
Medical Insurance 800 Medical Insurance: 800
Registration Fee 500
Medical Checkup 350
Visa Extension Fee 800
First Year Fee 38000 RMB (839254 Total Fee)
2nd Year to Final Year Fee 19800 RMB (437295PKR Total Fee).• The student has to pay the first-year fee on arrival, otherwise, He/ She will have to stay in hotel till fee payment is done by the student.
Fee will be paid in Chinese Yuan (RMB) fluctuation may change fee in US$.
Books, Food & other miscellaneous expenses are not included in the above fees. Students themselves
will pay these expenses.
Special Notes
Liaison fee is not a university fee. It is charged by the organization which is responsible for your admission
Procedure and it is non-refundable once paid.
MBBS IN CHINA 2020 ADMISSION
March 2020 intake for MBBS In China Admission for Pakistan Students. Here is the complete guide with the Fee structure.
Admission Criteria 60% marks in Biology and English, more than 50% in Physics and Chemistry. Age Limit is 25 Years. Less than 17 Years of students are not accepted. The student between 17-18 years will provide the power of attorney attested by the Chinese Embassy.
ADMISSION PROCEDURE
Submit your educational documents and pay an admission fee of 2000RMB to us
We will apply for your admission letter. After receiving the admission letter you are required to provide all the above required documents
JW202 and security deposit of 3000RMB which will be deducted from fee package and
if your visa is rejected by the Chinese embassy then you can submit an original copy of the admission letter and JW202 to us and can get a refund of a security deposit of 3000RMB.
Please note that 2000RMB of admission fee & Courier is non-refundable and not refundable
once it's paid and non-countable in the fee.
MBBS IN CHINA APPLICATION AND ADMISSION PROCESS
How to Apply mbbs in China
Admission letter
student visa (How to Get visa)
Police Character certificate
Attestation of educational documents
Visa Application
Ticket to China
Submit Fee
Hostel Cost
Total Cost for First-year MBBS in China
PMDC Test Guidelines (After Completion of your MBBS)
HOW TO APPLY MBBS IN CHINA
Here is the step by step guide. Ho to apply and select a medical college in China.
Search Chines medical universities
You cant apply directly for MBBS in China
Find Authentic Agent in your city
As per as our information, you cant apply directly in any medical university. choice authentic agent in your city. Agent charge some fee like 5000-1000Pkr. An agent will responsible for all the matter related to MBBS in China.
ADMISSION LETTER
This is the second step after the selection of a medical university. apply for admission letter and jww2 form (Student visa). you need the scanned copy of following.
Passport Size Photo
Matriculation certificate and Detail marks sheet
FSc (Pre-Medical) Certificate and Detailed Mark sheet
Scanned Copy of your Passport
You need the original admission letter issued by your university and student visa form to apply for the visa in emmabsay in the Republic of China, Located in Islamabad, Pakistan.
All these steps will be told you by your agent as well as by our team member.
APPLY FOR POLICE CERTIFICATE
This is the third step. Apply for a police certificate. For this purpose visit your police station. They will guide you through the Police certificate application process. Normally within a few days, police station issues police certificate.
You have complete three steps. if you have any question drop your comment. we will reply to your comment as soon as possible.
ATTESTATION OF EDUCATIONAL DOCUMENTS
Get attestation you matric detailed mark sheet and fsc detailed mark sheet from your respective board of intermediate and secondary education, and attest from inter-board chairman commit Islamabad.
for attestation of documents, you can use TCS service.
This was the fourth step
VISA APPLICATION
Visa Application is the Fitih step. Here is brief information about visa application for mbbs in China. You need to apply to the embassy for the visa. you need following documents for visa application.
Attested Degrees (Matriculation and Fsc)
Police character Certificate issued by Police station
Admission Letter (original)
Jww2 Form (student visa form)
An affidavit from your father guardian, That they will provide money for your education.
Bank Statement
MBBS IN CHINA FOR PAKISTANI STUDENTS
China is our neighbour country. Pakistan China friendship is the example for the world. There are many benefits for Pakistani students in China. Travel to China by road is very cheap. due to CPEC Pakistan and China are very close friends. If you want to do mbbs abroad. your priority should be mbbs in China.
HERE IS LIST OF BENEFITS FOR PAKISTANI STUDENTS
Mbbs in China for Pakistani students is very beneficial, Here is the list of benefits and facilities for Pakistani students.
All chines universities off mbbs course in English
Age limit for MBBS in China is 18-24
Recognized Byword health organization
All Chinese universities are recognized by WHO
Recognized worldwide, China MBBS Degree Recognized worldwide
Country test, Like PMDC, USMLE are mandatory for Practice as a doctor
FSc Pre-Medical or o/level students can apply
Receive, University Representative will Receive You
PMDC Recognization, No Medical university-recognized By PMDC
PMDC TEST AFTER COMPLETION OF MBBS
After completion of your MBBS in China, it's mandatory to pass Pakistan medical and dental council test. After successful clear of PMDC Test. PMDC will issue a license. Now you can practice as a doctor in Pakistan.
if you want to practice in China. No test required. If you want to practice in the united state of America. you need to appear in USMLE.
After Completion of the Pakistan Medical and Dental Council test, your journey completed, But not ended. now your doctor officially.
For more information, please visit PrepareHOW Entry Test Preparation Website.