Today in this blog you will get to know about DOW University of health and Sciences financial aid services. For more information please read the whole blog.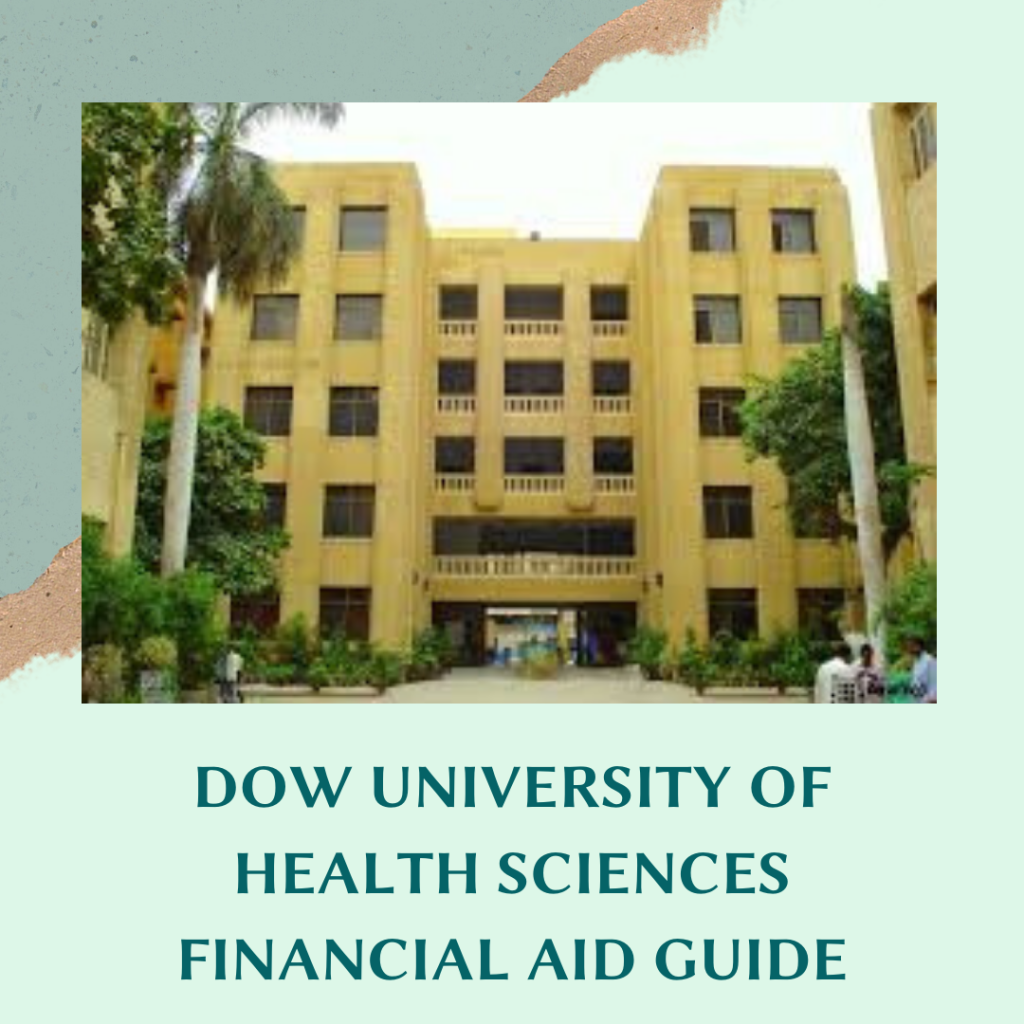 DOW University :
DOW university of health and sciences is categorized among the top medical institutes of Pakistan. If you wish to take admission in DOW university of health sciences on the basis of scholarship then this blog can provide assistance to you.
Scholarships offered:
HEC Need Based Scholarship
Sindh Endowment Education Scholarship
University of Karachi Alumni Association (UKAA)
Dr. Abdul Aziz Khan Scholarship
Ministry of Minority and Religious Affairs, Minority Scholarship
Abdullah T. Wehwaria and Farhat Aleem Trust Scholarship
Ministry of Minority and Religious Affairs, Minority Scholarship
Punjab Education Endowment Fund Scholarship
Dr. Abdul Aziz Khan Scholarship
Meezan Bank – Ihsan Trust Qarz-e-Hasna
Professional Education Foundation
Office of the Deputy Commissioner Tharparkar, Scheduled caste Students Tharparkar scholarship
Financial loans offered by DOW University of health and sciences:
Dow university of health and Sciences offers fully funded scholarships ( Mphil and PHD) to students of Muslim Countries.
Another loan that DOW University provides is interest free loan known as student Study Loan Scheme.
DOW University of Health and Sciences Student Study Loan:
The Dow University of Health Sciences provides financial hep to the deserving students through Students study loan. Students Study Loan is a study loan which provides help without any interests attached. This interest free student loan is provided to students who wants to pursue studies in DUHS but are unable to because of the financial barriers. Please keep in mind that this student loan is for deserving undergraduate students.
How to apply:
Students have to obtain the loan application from the financial aid office of the DUHS (Dow University Of health and sciences)
Attach the supporting documents with the form
FAO are responsible for examining the application forms and then forwarding the deserving and appropriate cases to DUHS Student Loan Committee
The approval/ Non approval and the amount will be decided by DUHS Student Loan Committee.
At DUHS you can also apply for EHSAAS Undergraduate Program:
EHSAAS Undergraduate Program:
Ehsaas undergraduate scholarship program can be stated among one of the HEC Need based Scholarship. Ehsaas scholarsip is granted to the students who want to pursue studies after F.A/FSC but are unable to , because of financial barriers. This scholarship provide university tuition fee and stipend to the students with limited financial resources. For more information please keep reading the blog.
It is one of the significant project funding under Government of Pakistan's Ehsaas social safety net program which aims to offer undergraduate scholarships to the students who have limited financial resources.
For more information please visit DUHS.
In addition to the above blog, You can also read the blogs mentioned below:
For Entry test preparation you can take assistance of PrepareHOW app.
Note : If you any queries related to the entry test preparation please visit our website . or Downdload our app.